New addition to my tool collection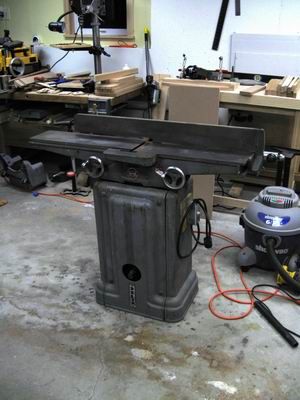 I'm fortunate that I have access to a 16-in.-wide jointer here in the Fine Woodworking shop. It means that I don't need a big one at home, which I wouldn't have the space for anyway. And, oddly, when I lived in SC I also had access to a 16 in. jointer. So I'd never needed a jointer at home. But I do need a jointer at home now, as I'm about to start making new drawers and doors for my kitchen cabinets (we're switching from overlay to inset as a way of sprucing up the cabinets). For that type of work, a 6 in. jointer is fine. So I started to look around for one. Of course, fond as I am of old iron, I was looking for a vintage machine (see my previous posts about my tablesaw and a big jointer). I found a nearly original 1959 Delta 6 in. jointer for sale in New York (I was checking the classifieds, called the Bring Out Your Dead forum, over at www.owwm.org) and boy am I happy. It is in great shape. All I had to do was put on a better switch and clean up some surface rust. I probably order some new blades too. And the best part? It cost me less (much less) than any new 6 in. jointer I could find.
What I like best about the jointer is that it is entirely cast iron, even the base. It ways several hundred pounds. I also love the art deco look of the base.
If you've got some old iron that you love, tell me about in the comments below.
An Art Deco beauty. Here's my "new" jointer, after cleaning up some surface rust, putting on a new plug, and wiring up a better switch.
Brought home in pieces. This little guy was too heavy to move about in one piece, so the previous owner broke it down into the base, jointer, and fence before I met him. I used some naval jelly to clean off the rust.