Rolling Stand for My New Planer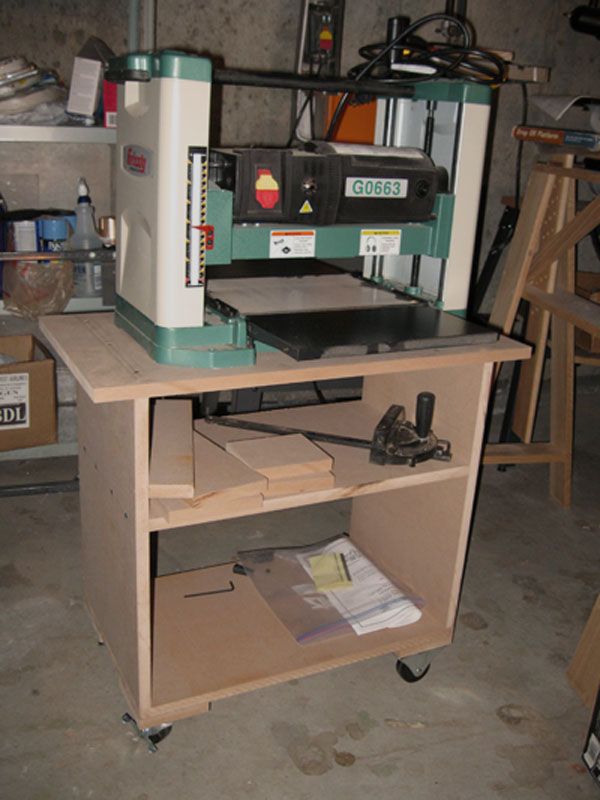 I don't really have a workshop; it's more like a workspace. My wife and I haven't yet figured out how to divvy up the basement space permanently, so I've simply carved out a corner to work in. That means I've put a lot of tools (my tablesaw, bandsaw, even my clamp rack) on wheels to make the most of the space.
Recently, I bought a benchtop planer, and it had been sitting in my office for about a month simply because I didn't have a good location for it in my basement. I knew it would sit on a mobile base, but I just hadn't had the time to design and make one.
I finally got to the job a couple weekends ago. The stand I designed is made from 3/4-in.-thick MDF, assembled with butt joints and screws, and rides on heavy-duty casters. It was super-easy to build, taking about 3 1/2 hours. I know it's not high-end, but when it comes to shop fixtures, I like to keep them simple and durable; there's no need to dress them up or spend a lot of time on them. This stand should last a while, and it keeps my workspace flexible.
After working with the MDF, though, I now know what my next big purchase will be: a dust collector.
My son Ryan holds 'er steady while I drill.
My daughter Shannon helps, too.