Dimensioning Multiple Views of a Component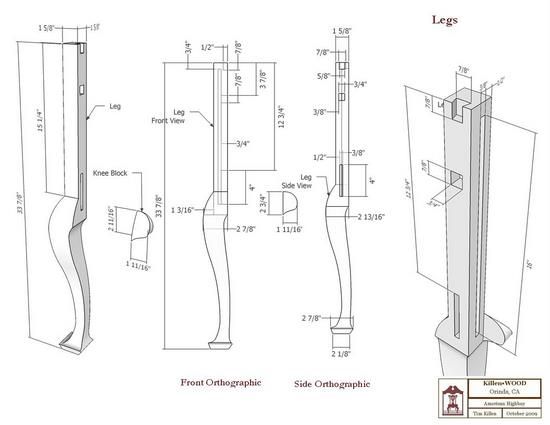 Dave Richards and I have covered multiple ways of handling dimensioning in several previous blog entries. One difference is my low frequency use of layers while dimensioning, and Dave's more liberal use of layers.
I'm finding in doing more complex construction drawings a benefit of loosening up on my hesitance to use layers – not quite to the extent of Dave as yet. So I will describe my new process of handling dimensions which is so far working better for me.
First let me outline the problem: It often takes several views or Scenes in SketchUp to adequately show the detail dimensioning and call-out text of a component. Typically, I find that for complex components it will require:
1. An overall perspective view of the component with overall dimensions
2. A front view orthographic to show dimensions of joinery
3. A side view orthographic to show dimensions of joinery
4. A detailed close-up view of particular joints (usually perspective)
5. And sometimes a top orthographic to show detail dimensions
If all the dimensions and text are placed on one copy of the component, there will be significant conflict of the dimensions and text which will be unreadable. (There is an option to hide smaller dimensions when zoomed out, but I don't use this as I prefer more definitive control on which ones show in a view).
As an example, I will use a highboy drawing I'm working now. Here is the lower section of the highboy in an assembled view:
To adequately show the dimensions on the leg component, takes four different views or scenes as follows:
Leg Scene 1: The overall perspective view. In this scene I show only the overall length and width dimensions. If one tried to show the joint dimensions here, the drawing would be very cluttered and hard to read.
Leg Scene 2: The front view orthographic view (also X-ray). In this view I can begin to show detail dimensions on the mortises and the top dovetail.
Leg Scene 3: The side orthographic view (also X-ray). Here I can show further detail dimensions as looking from the right side of the component. I don't want any of the dimensions in the above scenes to show in this view.
Leg Scene 4: A detailed top view perspective. Here I can show more detail of the joinery dimensions, especially the dovetail in the top. Again, I don't want any of the above dimensions to show up in this view.
So to manage the dimensions in these various scenes, I make five new layers in my models, as follows:
1. Perspective text/dimensions
2. Front orthographic text/dimensions
3. Side orthographic text/dimensions
4. Top orthographic text/dimensions
5. Detail view text/dimensions
Note: I do not create separate layers for unique components. These five layers are applied to every component as required.
Here's the procedure I'm using for using these layers in dimensioning:
1. After making the Scene, I click on the Layer Dialog Box and check-off which text/dimension layer is applicable
2. I click on the Scene Dialog Box and save the Scene. This is required to re-set the Scene memory for only those applicable layers
3. I dimension the component all in the default Layer 0
4. I select all the text/dimensions in the scene, then click on the Layer Toolbar and set to the appropriate Layer number. Now all text/dimensions in that scene are re-set to the applicable layer.
I've found this procedure to work very reliably and avoid the conflicts of text/dimensions in the various scenes. This is how I would show the four Leg scenes on one landscape page in Layout: