Special Krenov focus in FWW is a strange coincidence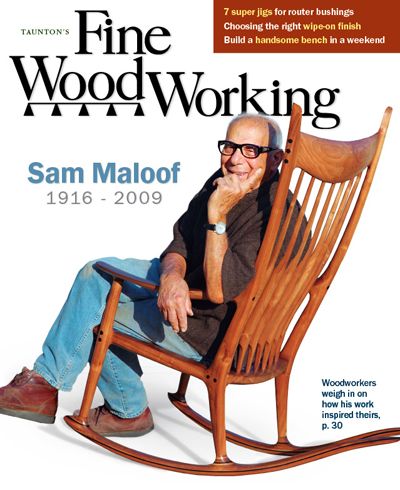 A series of coincidences is like a row of dominoes. The first one was that we had a number of Krenov-inspired articles in the works. The main one, a display cabinet project, built by Jim Budlong, a longtime instructor at College of the Redwoods, was pulled from the last issue of FWW (207) to make room for a last-minute tribute to Sam Maloof. That was the second domino.
That pushed the display cabinet into the current issue, which went to press Tuesday but hasn't yet hit newsstands. And the current issue already had an article about the sawhorses that Krenov taught students to make. So we decided a few weeks ago to play up the coincidence, and play the two articles, plus a Master Class department that focuses on the cabinet's Krenovian details, as a special package in this issue, called, "Build the Krenov Way."
Then, just as we were going to press, we learned that Krenov was very ill. Not knowing for sure what would happen, all we could do was put an editor's note in the cabinet article. Today, two days after the issue went out the door, we found out he had passed. Very strange timing, made even more strange by the fact that the articles actually form a fitting tribute to the brilliance of the man, both in design and construction, and his far-reaching influence.
Stranger still, we had given the display cabinet article more space than we usually would have for a project, in order to convey Krenov's unique way of seeing and building. And the elegantly simple sawhorses show how the man's genius extended beyond furniture. And both articles were written by former students of Krenov, who are no doubt his greatest legacy. In the end, I'm glad our readers will have a chance to appreciate James Krenov, just as they are finding out about his passing. I'm cynical by nature, but it is weird the way it all happened.