Is it OK to sell furniture based on FWW articles?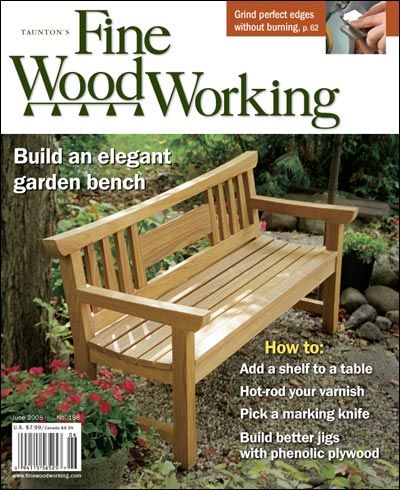 A reader recently e-mailed us at FWW to ask if he could sell a few garden benches based on Russell Jensen's beautiful piece on the cover of issue 198, with only a few minor design changes. I gave him my stock answer:
"Legally, he probably doesn't have to ask, because it is hard to make these cases stand up in court. But ethically, he should ask, especially if his changes are only minor. The plans are in the public domain, but that is for hobbyists. For pros who want to make money off the design, it is a whole other matter. If he isn't going to compete with Jensen directly, in his region for example, Jensen will probably say OK."
We also forwarded the question to Jensen, and sure enough he said it was fine, but I'm sure he appreciated being asked:
"I have no problem with him using the design to sell. If he was doing it in large quantities I would probably be upset about it, but if he's just building one here and there to sell that's fine by me. Can't say that certain Fine Woodworking articles haven't heavily influenced some of my work also, so for me to say that he can't use my design would be somewhat hypocritical I think : )."
I agree with Jensen that all designs are influenced by what has come before, but it's not too hard too see that some are pretty unique. Take Sam Maloof's rocker. He refined that design again and again, and so the design we all know and love represents any, many years of work, and a lot of money if you consider all the lean years a furniture maker accepts, hoping to find his or her voice and develop a signature line.
When I was interviewing Maloof, I asked him about the many knockoffs I had seen. He didn't mind hobbyists copying his chair. That's why he explained how to build his rocker in articles and videos in the early years of FWW. But the case that upset him was a guy who set up a whole business around the concept of: Come take a class with me and I'll show you how to build the Sam Maloof chair. Maloof said he had considered suing, but was advised it wouldn't be worth it in the end. It would have been nice if the guy had at least asked.
Recently, I have seen people selling plans for a "Sam Maloof-inspired chair." I appreciate them inserting the word "inspired" and not copying the Maloof rocker exactly. That seems like it falls on the right side of the line.
But what do all of you think about this thorny issue of copying and selling?