How to Veneer a Sunburst
Dazzling tabletop, step by step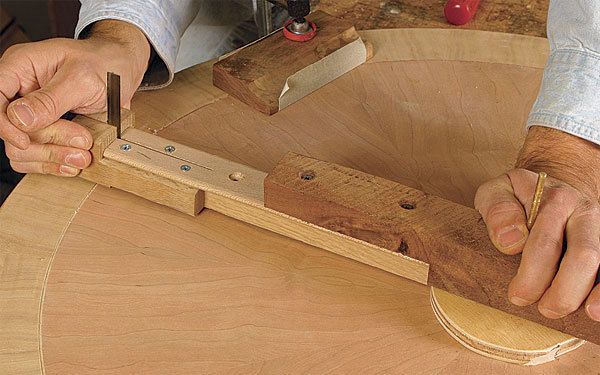 Synopsis: A sunburst is one of the most dramatic ways you can use veneer to enhance a circular tabletop. The arrangement of wedge-shaped segments cut from consecutive sheets of veneer can create stunning effects, especially if you use crotch veneer or other interesting figure. Here, Mark Arnold shows how to lay out veneers for a spectacular sunburst, from drawing the first pattern, to cutting the veneer, to assembling the sunburst and adding a dramatic border.
A companion Master Class  shows a more elaborate border treatment.
From Fine Woodworking #206
Veneer can replicate solid lumber, but if you use it only for that purpose, you are missing out on some dazzling design opportunities. One of the most spectacular of these is to arrange consecutive sheets around a center point. Known as a sunburst, this pattern is ideal for circular tabletops. It creates interesting concentric patterns, and the tapered shape of each segment draws the eye from the perimeter toward the center.
If you try this with solid stock it will fail, either from radial splitting caused by shrinkage or from cupping caused by expansion. I'll show you how to work with veneer to create a beautiful sunburst tabletop, from laying out the pattern to cutting and installing the segments. I'll also show how to install a simple border that frames the sunburst. But I don't stop there. For an ornate scalloped edging that will take a sunburst to another level, turn to Master Class (pp. 88-92).
Crotch veneers create stunning effects and are the traditional choice for sunbursts, but plain sliced veneers also yield interesting results. Cross-grain figure works, such as curly and fiddleback, but bird's-eye and burl tend to understate the sunburst effect. For this tabletop, I chose a blistered cherry veneer with an African satinwood border.
Choose an even number of segments: An accurate layout is critical to success. The first step is to decide upon the number of segments in the sunburst pattern. This may be dictated by the size of the veneer sheets you have. The key to good results is to assemble the pattern in small sections first and then join those sections. In this 12-piece sunburst, the total number of segments is divisible by four, so I'll assemble the pattern in quarters first. An eight- or 16-piece design can be created using the same basic layout.
Sunbursts with an even number of segments not divisible by four must be assembled in halves, each with an odd number of segments. Whatever method you choose, for best grain and color match, you'll need a stack of veneer sheets that were sequentially sliced.
Make sure the veneer is wide enough—Before you lay out the pattern on the substrate, make sure the veneer will fit the pattern. Divide the circumference of the sunburst you want to create by the desired number of segments to find out how wide each sheet must be. In this case, the top has a diameter (D) of 30 in. The formula for the circumference (C) of a circle is C=πD, so the circumference of the table is slightly more than 94 in. (30 × 3.14 = 94.2). Each segment of a 12-piece sunburst will therefore need to be 7.864 in. wide, or about 7 7/8 in.
For the full article, download the PDF below:
View PDF