How to Veneer a Sunburst
Dazzling tabletop, step by step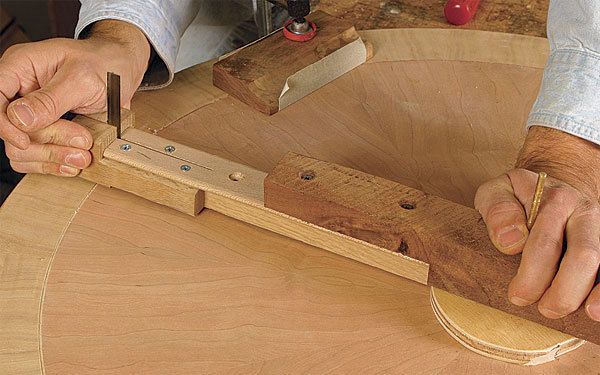 Synopsis: A sunburst is one of the most dramatic ways you can use veneer to enhance a circular tabletop. The arrangement of wedge-shaped segments cut from consecutive sheets of veneer can create stunning effects, especially if you use crotch veneer or other interesting figure. Here, Mark Arnold shows how to lay out veneers for a spectacular sunburst, from drawing the first pattern, to cutting the veneer, to assembling the sunburst and adding a dramatic border.
A companion Master Class  shows a more elaborate border treatment.
From Fine Woodworking #206
Veneer can replicate solid lumber, but if you use it only for that purpose, you are missing out on some dazzling design opportunities. One of the most spectacular of these is to arrange consecutive sheets around a center point. Known as a sunburst, this pattern is ideal for circular tabletops. It creates interesting concentric patterns, and the tapered shape of each segment…
Start your 14-day FREE trial to continue reading this story.