McCoy, Thibodeau, and Howe Win Built-In Competition

Congratulations to Michael McCoy aka "Castlewerks" who wins the grand prize for the Build It In to Win for his Wall to Wall to Wall to Wall piece. McCoy didn't cut any corners in executing this classic design built entirely from African mahogany.
It includes a window seat, media center, bookcases, fireplace mantle, and a computer desk. He wins a Bostitch compressor and a 16-gauge finish nailer kit.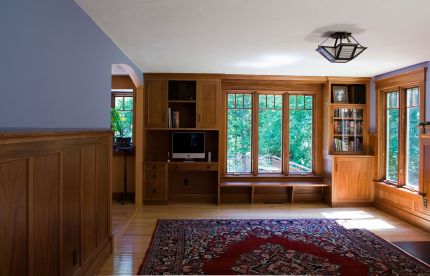 Library wall
Craig Thibodeau's Library Wall also snags a prize. His sleek built in of pommele sapele veneer makes great use of an oddly shaped space.

Photo: Craig Carlson
The 33-ft. long built in garnered numerous votes from our judges. It includes bookcases, pantry storage, art nooks, and plenty of doors and drawers.

Photo: Craig Carlson
"I like the staggered "countertop" height reminds me of fitting yacht cabinets… no 90 degree point anywhere on the case!!!" commented deckboards.
Thibodeau wins a Bostitch compressor and an 18-gauge brad nailer kit.
Game nook
The final prize goes to Nelson Howe, aka "fuzzychum" for his game nook. This is one of the most creative built-ins of the contest. Mobiustrip said it best… "Whimsy and Elegance. Nice job. Love it."
It has it all: shelves for music, seating that doubles as storage for games, a delicate game table with bent-laminated legs that won't knock into knees, and a retro payphone. The only thing it's missing is a mini-juke box commented one judge.
Howe wins a Bostitch compressor and an 18-gauge finish stapler kit.
Countless examples of craftsmanship
The caliber for this contest was very high and we received many eye-catching entries. Kudos for Hilltop Mantle, the Quarter-Sawn Ash Fireplace with Bookcase & Entertainment Cabinet, the Cherry Entertainment Center, and the Basement Entertainment Center. These pieces all won multiple votes from the judges.
Thanks to those who posted so many examples of their work showing the breadth of their built-in skills like Greg Grosse of Grosse Design and Todd A. Clippinger.
Grosse's pieces were among many of the judges favorites including his Painted Bookcase, Bow-Front Cabinet, and White Oak Bookcases/Entertainment Center.
Clippinger's Cooper Entertainment Center was another top rated piece.
The shoji material makes it stand out in the crowd. "Another great peice of work," commented Taigert.
Thanks to all who participated.
FineWoodworking.com has more gallery challenges to come in the future. The Tool Chest and Cabinet competition (for a SawStop tablesaw) runs through June 30 and the Creative Bookcase competition is also underway.
This quirky game nook by Nelson Howe takes the final prize: a compressor and an 18-gauge finish stapler kit.
Craig Thibodeau's Library Wall also snagged a prize, a compressor and 18-gauge finish stapler kit.