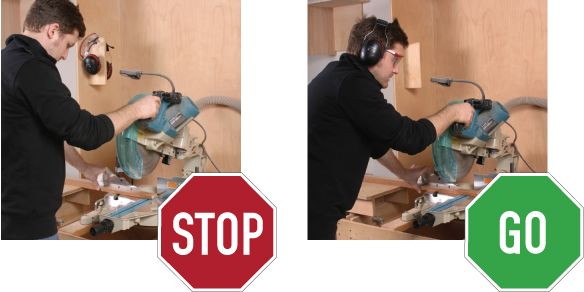 The miter saw, sometimes called a chopsaw, is a carpenter's tool that has found a home in the woodworking shop. Its cuts aren't always precise enough for furniture joinery, but they are plenty good for many tasks. More than anything else, the miter saw is used for cutting pieces to rough length before they move on to the more precise machines.
A wide variety of miter saws are available, some that simply chop downward, and more expensive models where the motor and blade assembly travels on sliding rails to increase the tool's cutting capacity.
The following is a list of safety precautions to consider with cutting with a miter saw:
1. Eye and ear protection are required when operating a miter saw.
2. Don't wear gloves, loose clothing, jewelry, or any dangling objects when operating a miter saw.
3. All guards must be in place and operating. If a guard seems slow to return to its normal position or hangs up, adjust it or repair it immediately.
4. Unplug or lockout power to the miter saw when making repairs or adjusting blades and guards
5. Hands and fingers must be kept clear of the blade by at least 6 in.
6. Clean the lower guard frequently to help visibility and movement.
7. Use only the recommended blade size.
8. Regularly check and tighten the blade and the blade-attachment mechanism.
9. Ensure that the blade and its related washers and fasteners are correctly positioned and secured on the saw's arbor.
10. To avoid losing control or placing hands in the blade path, hold or clamp all material securely against the fence when cutting.
11. Do not perform operations freehand.
12. Never cut small pieces.
13. Long material should be supported at the same height as the saw table.
14. To avoid contact with a coasting blade, do not reach into the cutting area until the blade comes to a full stop.
15. After completing a cut, release the trigger switch and allow the blade to come to a complete stop, then raise the blade from the workpiece. If the moving blade stays in the cutting area after the cutting is complete, injury can result from accidental contact.
16. When using a sliding miter saw, start cutting with the blade closest to you, plunge downward, and then push the blade forward on its sliders as you cut.
Do you have more miter safety advice to share or a scary miter saw story? Post a comment below and help your fellow woodworkers stay safe.
Wrong Way, Right Way: Keep your hands away from the blade, wear ear and eye protection, and wait for the blade to stop spinning before raising the blade after a cut.