Fire Claims an Artist's Shop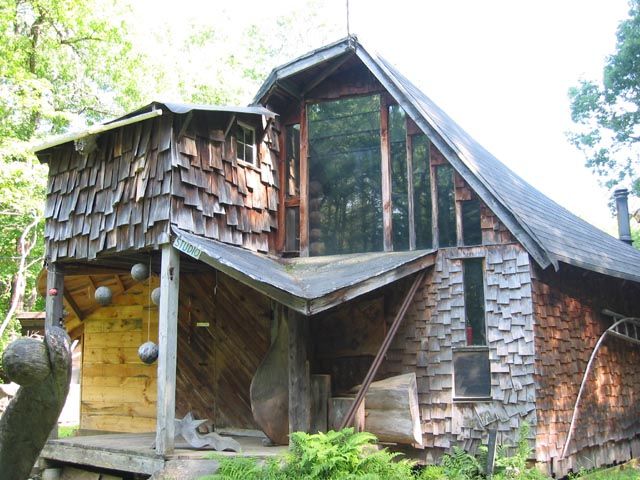 The place where Jon Brooks used to work was no ordinary wood shop.
Brooks is a furniture maker and sculptor – often at the same time. And when he built the studio and shop in the woods behind his New Hampshire home, the artist came to the jobsite as well. The building, with its curved walls, wide eaves and slouch-hat roof, looked like a forest castle in a fairy tale. Photos on his website make it clear that the space – like the house next to it – was alive with imagination.
"I had my own formulas and my own way of doing things," Brooks said this week. "I knew I didn't want to live or work in a box."
Now he's faced with having to do it all over again, or try at least. Some time before dawn on Jan. 18, the shop caught fire and burned to the ground. The blaze also destroyed all of Brooks' tools and lumber, and several works in progress.
Fire officials haven't determined a cause, but have told Brooks they think heavy snow may have loosened electrical lines coming into the shop. That could have brought wet snow into contact with bare wire, throwing sparks that ignited the fire.
Regardless, for the first time since 1972, Brooks is without a place to work. And the need to quickly put a new roof over his art may trump the desire for a unique space.
"I could spend another ten years – or more – just building," Brooks said, "but I have too much work that I want to get done." It's unclear how much the insurance will cover – if any.
In the meantime, an online fundraiser is underway at Brooks' website.
EDITOR'S NOTE: For more on fire prevention in your shop read Fire Safety in the Shop, from issue #174 of Fine Woodworking magazine, for tips and checklists on how to be prepared.