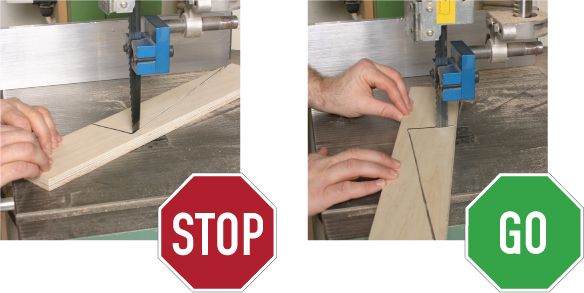 Where a carpenter might use a handheld jigsaw to make curved cuts, most woodworkers turn to a bandsaw. With its continuous cutting action and broad table, the bandsaw offers better control and cleaner cuts than its small cousin.
As with most tools, setup is very important, as is a sharp blade. With the guides retracted, the blade should be adjusted to run in the center of the upper wheel. Then all of the guides should be adjusted close to the blade, with the side guides set just behind the teeth to avoid being damaged. The user should push firmly but not too hard on the workpiece, letting the blade do the work.
The following is a list of safety precautions to consider when cutting with a bandsaw:
1. Always follow the manufacturer's safety guidelines for your bandsaw
2. Keep your fingers out of the path of the blade
3. Decrease the feed pressure as you approach the end of the cut
4. Keep the wheel covers shut when the saw is running
5. Adjust the upper guide approximately 1/4 in. above the workpiece before starting the saw
6. Keep the blade guard in place
7. Disconnect the bandsaw from the power source before changing blades
8. Always wear eye protection when working with the bandsaw
9. If the blade breaks or runs off the wheels, do not open the covers until the machine has come to a complete stop
10. Stop the saw before removing small chips that have become stuck in the throat
11. Use push sticks when necessary to avoid placing your fingers near blade.
12. Be sure the workpiece stays in contact with the table at the point where the blade exits.
Do you have more bandsaw safety advice to share or a scary bandsaw story? Post a comment below and help your fellow woodworkers stay safe.
Wrong Way, Right Way: To prevent backing out of a cut or binding the bandsaw blade, make relief cuts first.