Cello Box Wins Tablesaw Prize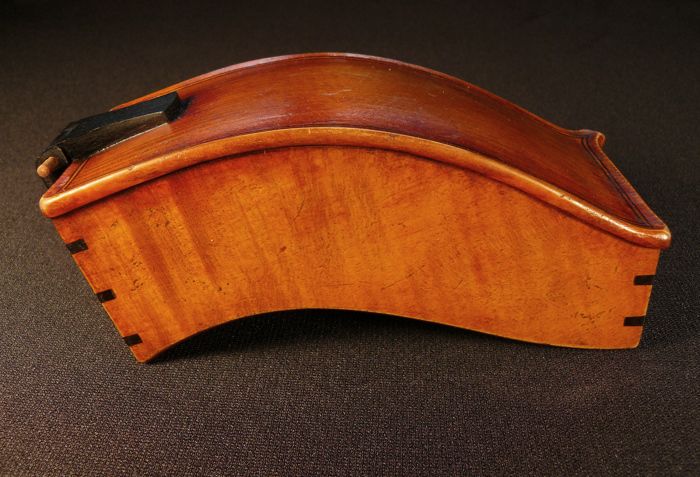 We're absolutely overwhelmed by the response to our Build Outside the Box gallery challenge. It received more than 350 entries in every imaginable size, shape, and material.
It was tough for us to pick just one winner, but we have only one tablesaw to give away. We chose a last-minute entry, Christopher Moore's Cello Box.
Moore wowed us with his creativity. Adapting cello techniques to this new creation is clearly "outside the box" and the skill required to make a box like this is obvious.
We love the finish… varnished and antiqued to make it look like a "200-year-old, well-used sort of box."
According to his Web site, Moore graduated from the Chicago School of Violin Making (watch our video tour of the school) and makes instruments professionally. He lives in Madison, Wis., with his wife, also an instrument maker. (Moore actually posted his winning entry while logged in with her account; his screenname is Boogieshop, not MuesliMama, if you were wondering.)
Ode to the boxes
Entrants demonstrated incredible creativity and skill. Below is a sampling of the boxes that caught our attention.
Michael Craigdallie gave the cello box a run for its money with his Lotus Box. We love this impeccable creation with its graceful legs and intricate design.
"It might very well be the finest box I've ever seen," commented Sandtazam.
Quirky
People posted countless eccentric designs.
Jeff Baenen's box, My Nightmares and Dreams, captured the attention of many Fine Woodworking editors. Baenen he spent four months of evenings and weekends completing the offbeat piece. "I am a little nervous…nobody but family and friends has seen my work…I hope you like it," he wrote. We surely do.
Jack Taylor posted two whimsical creations: A rustic reliquary for several pebbles from Walden Pond and a box for a fisherman stuck at his desk.
Katherine Tipton's spiky-haired Surfer Poker Box captured several votes from the California contingent on our staff. "All the surfers I have known get out of the water and shake or wipe their hair and then it stands on end," wrote Tipton. She used sharpened hardwood dowels to re-create the effect.
Elegant
Many boxes made us chuckle, but we were blown away by the beauty and careful craftsmanship of others.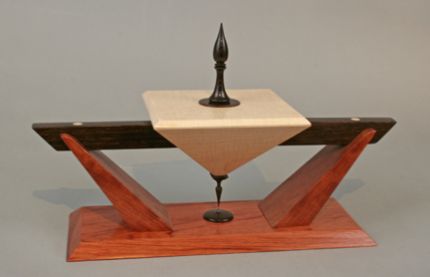 Cauldren Box by Alan Carter, also known as Wooddood, garnered many votes from our staff.
ArronNZ designed a refined box with simple lines to take advantage of an exquisite piece of English walnut burl veneer.
Jeff Guthrie's skillful Jewelry Box with a bent-laminated lid captured the attention of others.
Jim Motto's sleek mahogany box is also a favorite. Visit his Web site to see more of his boxes.
The viral vote
Many boxes drew the attention of Web surfers and the online woodworking community.
Gary Kemper, of Lumberjocks, designed an intricate box for his wife's cross-stitch supplies and raked in more than 23 comments.
Danser, by David Knipfer, drew tremendous popular support with hundreds of recommendations and 20 comments.
Mixed media
We are Fine Woodworking, so the bulk of the submissions obviously were made of wood. Some box makers also made creative use of other materials.
Tim Cozzens built his elegant Throw Me a Curve gift box from aluminum with tamo ash and pommele sapele veneer. Photo Jerry Cox
Bob Edenhofer made this Cylinder Jewelry Box with black walnut and bird's-eye maple along with pommele sapele and bubinga veneer. He capped the box off with silver-gilded ends finished with a chemical patina. (For more on patina finishes, read David Marks' recipe from FWW #170)
Garethhgriffith's copper and glass Zen Garden Box doesn't contain a speck of wood (even the rake looks like it's made from metal) but it sure is attractive.
Architectural
Several of the boxes draw on architecture… some even looked like shrines…
Roytroutbum built an ornate jewelry box called Golden Temple Of The Ivory Moon.
AbBob built a mini Shinto temple.
The craftsmanship in Pagoda Box in a Box by oldboxmaker impressed our editors. For another box inspired by Asian architecture, scope out the Tibetan Box.
The eeeeeew factor
Finally DrFilmo wins the prize for the most anatomically correct box. It's a thoughtful Valentine's gift for his wife, read the back-story on the entry page for more information, but it's not often that you get to see carved internal organs in our job. The box gave one editor an idea for an upcoming Master Class article: Carving the Superior Vena Cava.
So, on that note, this will end one of the longest posts in Editors Mailbox history. Thanks to all for the creative and fine-crafted entries. It takes courage to put your work before the world to analyze and judge.
Please feel free to sound off with comments below. If we missed any of your favorites in this round-up, please give them a shout-out below.
Congratulations to Christopher Moore and his Cello Box. And for all the rest… never fear, there are more Fine Woodworking gallery challenges to come. Our "A Whole Lotta Shaker Goin' On" challenge started earlier this week.
Cello Box by Christopher Moore
Cello Box by Christopher Moore
Cello Box by Christopher Moore