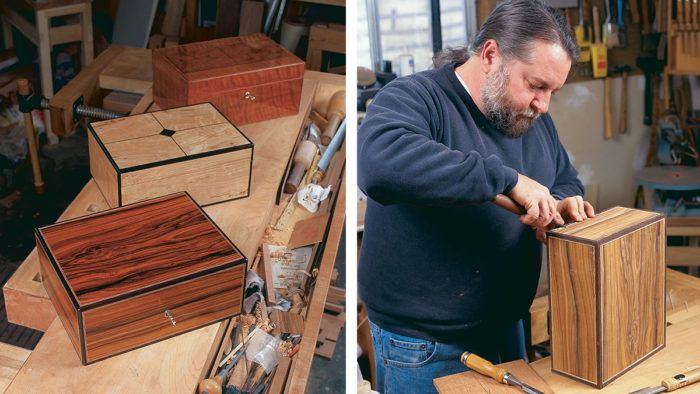 If you're anything like me in the shop you know you have to start making gifts way in advance of when you need them.  That's why I decided to get a six-month head start on a humidor for a cigar-smoking relative.  What I also realized very quickly was that I didn't know the first thing about making a humidor correctly.  To remedy that I went to Fine Woodworking, of course.
In issue # 127 Rick Allyn wrote an easy to follow, comprehensive article on everything you need to know to successfully build a humidor.  Not only does an exploded drawing give the dimensions and basic construction but Allyn demystifies how a humidor functions, what type of wood you need to use, where to get the humidifier and hygrometer (the instrument that lets you monitor the humidity level), and how to finish the box.  The article is packed with a ton of useful techniques that simplify the construction.  But the best part is the accompanying gallery of humidors, ranging from funky to period with a Newport shell and all.
CLICK HERE to  download the free PDF article and woodworking plan for Allyn's humidor.
The design possibilies are limitless.  Here are just a couple of the humidors you'll see in the article:
Forbidden. Made by Wendell Castle, this jelutong, lacewood, and Spanish cedar humidor defies the typical idea of what a humidor looks like. Photo: David Mohney
Newporter. John Goff combined Cuban mahogany and Spanish cedar to make this Newport shell humidor. Photo: Kevin Halle
Armed with all the information in this article I'm ready to start designing and building my own version of a humidor.  The relative in question is also a fly fisherman.  Anybody out there have free plans for a trout-shaped humidor?
NOTE: The link to the free plan was CORRECTED on 3/10 at 7:30 a.m. ET. For more information, read a note from our publisher.