Making a Roubo Workbench: Part 1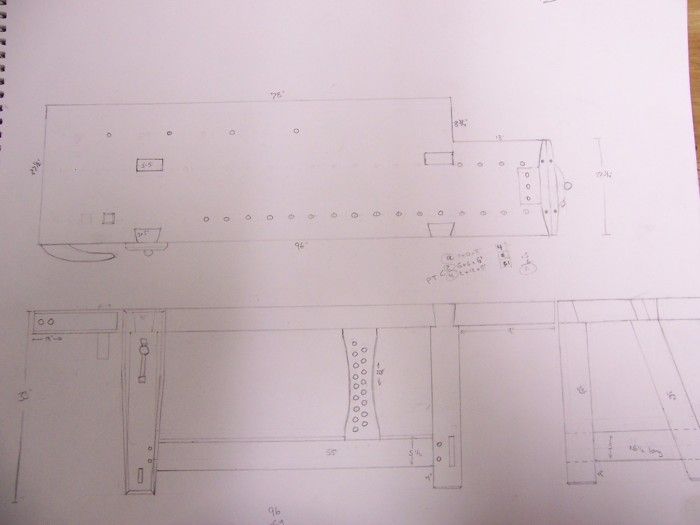 It's 2009 and I still haven't made a new workbench I promised myself when I bought an Emmert patternmakers vise at an antique tool auction in Indianapolis last spring. After the auction I bought Workbenches by Chris Schwarz and was planning on building the Andre Roubo bench he built in the book. Then a couple of months ago while attending Woodworking in America Conference in Berea KY, I saw Roy Underhill's version of the Roubo bench and fell in love with it. The bench was solid as a rock with its back legs splayed out and it didn't rack from side to side. Something my current bench is horrible with. Luckily there's a write up of Roy's Roubo bench in his new book The Woodwright's Guide; Working Wood with Wedge & Edge. Because there were things that I liked in both benches, I decided to incorporate some of the features of both and design something that would fit my needs.
The bench will be eight feet long and made out of Southern Yellow Pine with my Emmert vise installed at the end. I'm going to try something that I'm not sure has ever been done before and build the legs and the stretchers out of pressure treated wood. I just like the idea of the added weight with pressure treated wood. Plus, I was able to buy 6×6's for the legs and save some money verses buying more 2x stock and gluing them up to create a 5"x5" legs the way Chris does. I calculated how much material I need and bought (12) 2x10x8's, (4) 2x12x8's and (2) 6x6x8's. The total cost was $132.00. Not bad considering I paid $150 for a piece of 8/4"x 8"x60" walnut when I built my Pennsylvania Secretary a few year ago. The reason I didn't make the entire bench out of pressure treated lumber is because ACQ lumber is very corrosive to metal. You need to use hot dipped galvanized or stainless steel fasteners when working with it. Since my vise is cast iron, it would end up corroding if I used ACQ pressure treated lumber for the top.
After letting the lumber acclimate in my shop for about a week, I ripped the boards in half so that they would dry faster. My wimpy little table saw doesn't have enough power to rip through 2x stock without binding, so I had to set the blade a little under ¾" high and make two passes, flipping the board over after the first pass. Due to the high moisture content some of the boards started to crook immediately once I took them off the table saw. Once the ripping was complete, I stickered all the boards to let them air dry for a couple of more weeks. Once dry I'll start milling them to size.
I don't know how this bench will turn out using pressure treated lumber but I figure I can describe some of successes and pitfalls I encounter while building it. I'll keep you posted.
To see the other parts click: part 5, part 4, part 3, part 2.
The design of the workbench. My Sketchup skills are still nonexistent so I have to design the old fashion way.
The Emmert Turtleback Pattermaker's Vise.
My bench I built over 15 years ago. It has served me well but racks something terrible. It's horrible trying to plane on.
I needed to rip on both sides of the board because it would bog down my table saw if I tried to rip it normally. You can see how the wood immediately crooks.
The lumber stickered and ready to dry. I need to find my moisture meter so I can see how dry the lumber is before I mill it to size.
The two books that are instrumental for building the bench.