Sanding Tip: Eliminating Maximum Dust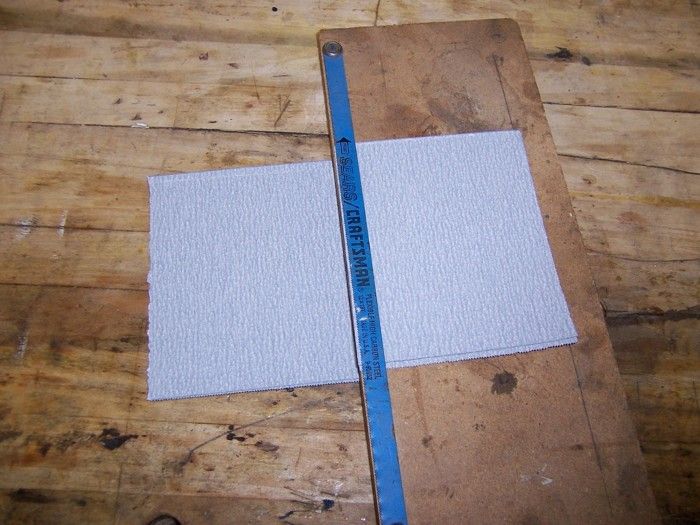 My wife hates dust in the house and anything I can do to eliminate it at the source scores me points. I bought a palm sander a few years back but I never liked the old metal pointed template that it came with as it didn't seem to work very well. The pins would puncture the paper but the area where the paper was punched would still remain on the sheet closing up the hole. I decided there had to be a better solution so I delved up a system that would allow me to quickly and neatly attach and punch pieces of sandpaper onto my palm sander.
It all starts out with piece of scrap wood that is half the width of a sheet of sandpaper. At the edge is an old hacksaw blade that I use to cut the paper exactly in half. Along with the blade, there is a line drawn to the right that is exactly half of the length of a sheet of sandpaper. Once I cut the sheet in half, I take the remaining sheet and cut it in half again creating four equally sized 1/4 sheets for my palm sander.
From there, I use a template that I made to layout the hole pattern on the 1/4 sheet of paper. I draw lines through the circles and use a 1/2″ hole punch I picked up at a local scrap booking store to punch holes in the paper. I align the pencil marks along with two little nibs that are on the hole punch to gauge where the hole will be punched. Once I all the holes punched, I attach the 1/4 sheet onto the palm sander ending up with perfect fitting holes that will maximimize my vacuum's airflow. I use a 1/2″ hole punch because the holes on my sander are 3/8″ in diameter so, even if I'm off a little bit, I still will get a perfect fit.
This system works great and when I hook up sander to my vacuum, I don't even have to wear a dust mask as all the dust is sucked up. Even better is the fact that my wife has stopped yelling at me about all the dust in the house. That's how I know it really works!