Grooved Clamping Blocks for Panel Glue-ups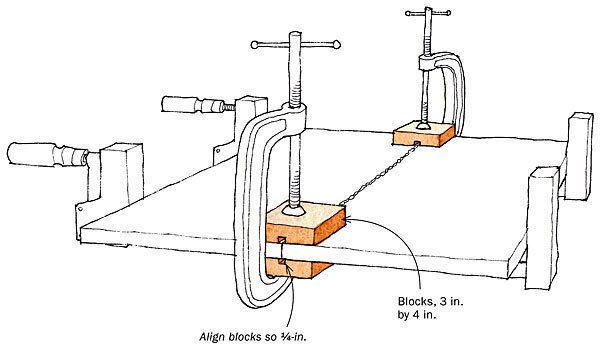 A common procedure while edge-gluing several boards into a panel is to use clamps at the joints to align the boards. But this often allows glue to get trapped under the clamp head, which creates some sticky situations and difficult cleanups. To avoid this problem, I use grooved blocks under the alignment clamps.
To make the blocks, I start with a 4-in.-wide piece of 3/4-in.-thick scrap. I rout a 1/4-in.-wide by 1/4-in.-deep groove down the center, then cut 3-in.-long blocks from that workpiece.
During glue-up, I place one block above and one block below the glueline, with the grooves straddling the joint so that no glue touches the blocks.
When the glue starts to set, after 30 minutes or so, I remove the blocks and peel the soft glue off the joint with a chisel.
Drawings by Jim Richey

Drawings by Jim Richey