Bessey - Bessey – 6-in. UniKlamp Light-Duty Parallel Clamp Tool Review
This light-weight clamp includes a sliding jaw that moves without much fuss.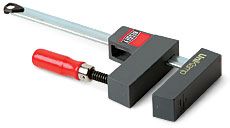 Parallel clamps, which have been around for about 15 years, were first introduced by Bessey and called the K-Body Clamp. The Bessey K-Body was an immediate hit because the jaws remained parallel no matter how much clamp pressure was applied. That meant workpieces were much less likely to slide out of position before the glue dried.
The shortest available K-Body clamp is 12 in., too long to be considered a small clamp. However, a few years ago, Bessey began making a light-duty parallel clamp called the UniKlamp in a 6-in. length.
The UniKlamp generated a respectable force of about 325 lb. in my test, yet it's relatively light and the sliding jaw moves without much fuss. It's great when you need moderate pressure and the workpiece would likely slip or twist if squeezed by any other clamp. I've use UniKlamps when clamping a fence to the base of a jig, relying on them to keep the fence in perfect position until screws are driven. When gluing a box with rabbeted ends, the parallel jaws allow you to apply even pressure all along the glue joints.