Prevention is Best Cure for Glue Squeeze-Out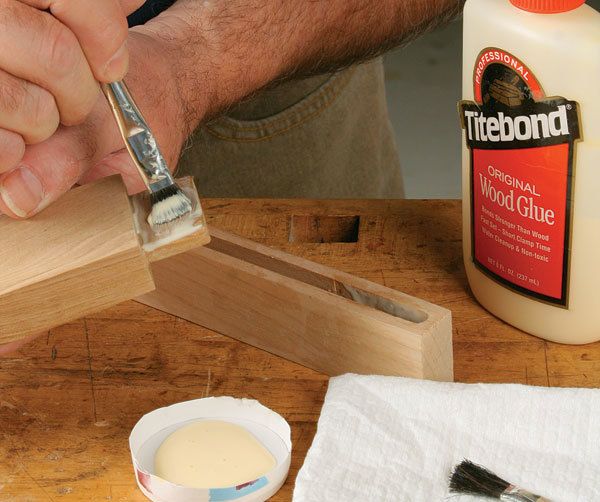 Q:
When making mortise-and-tenon joints, glue squeeze-out gives me trouble. If I wipe it off with a wet sponge, some of the glue gets into the wood pores and shows up under a finish. If I wait until the squeeze-out dries and scrape it off, I damage the surface. How can I avoid this problem?
Barry Wishengrad, Jamesville, NY
A:
Think prevention rather than cure. The best way to deal with glue squeeze-out is to keep it from occurring. Here's how: First, don't over-apply the glue. A thin coat on the mortise walls and tenon cheeks is all you need.
There's no reason to apply glue to the end-grain surfaces, such as the tip or shoulders of the tenon, or their mating surfaces.
Second, remove excess glue as you are putting the joint together. When you insert the tenon into the mortise, stop two-thirds or three-quarters of the way home.
You'll see a "roll" of glue on each cheek. That's the excess glue that would squeeze out if you pushed the joint all the way together.
Take a clean, dry glue brush and wipe away the glue roll, cleaning the brush on a rag between wipes.
Now push the joint all the way home. If you do it right, there will be no squeeze-out at all, but there will be plenty of glue left in the joint, where it needs to be.