How Strong is Your Glue?
We take six types to the breaking point, shattering some common wisdom in the process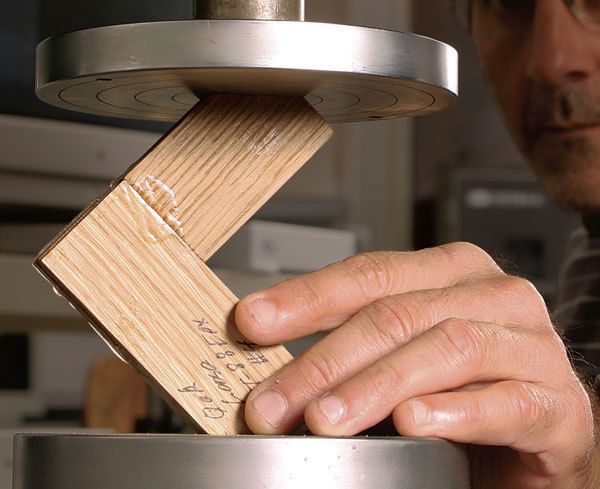 Synopsis: Glue is so essential to woodworking that there are dozens of types and masses of competing brands. There is also a lot of "conventional wisdom." To see if that conventional wisdom has any basis, Fine Woodworking ran a test on six common types of woodworking glue — a traditional yellow glue (PVA), a Type I waterproof PVA, a liquid hide glue, a hot hide glue, a slow-set epoxy, and a polyurethane.
We used each glue on tight, snug, and loose bridle joints in maple, oak, and ipe, sending the glued joints to the Department of Materials Science and Engineering at Case Western Reserve University for testing. Much of what we learned was surprising. Watch a video demonstration of the testing process by following the companion link below.
Unless they confine their woodworking to knockdown furniture, all woodworkers rely on glue. As a result, there are dozens of types of glue and masses of competing brands all proclaiming their superiority.
See it in action:
Watch a video showing how
the testing was done.
To help make sense of it all, Fine Woodworking ran a test with three main objectives. The first was to compare six common types of woodworking glue; the second was to see if the type of wood might affect the bonding strength of the different glues; the third was to determine how tolerant the glues are to poorly cut joints.
The results were revealing. Some older glues performed superbly, while a newer glue was less than impressive. The wood type does make a difference, but don't believe the stories that say all dense tropical woods are hard to glue. And, while glue starvation seems to be a myth, so does the gap-filling ability of certain glues.
Selecting glues, woods, and gaps
To see whether an open-grained wood bonds differently from a tight-grained one, we chose white oak and hard maple. Dense tropical woods have a reputation as being difficult to glue. We intended to use teak, but the lumberyard owner suggested ipé, as he had heard many complaints about glue failure with this wood.
We chose a traditional interior polyvinyl acetate (PVA) yellow glue represented by Elmer's carpenter's glue; a newer PVA glue with a Type I waterproof rating in the form of Titebond III; two types of hide glue, a room-temperature version by old Brown Glue and traditional granules that must be mixed with water and heated; a two-part, slow-set epoxy from System Three; and Gorilla Glue's polyurethane.
If a joint is sloppy, will the glue fill the gaps? Conversely, if the joint is so tight it has to be hammered home, will it be starved of glue? does a perfectly fitting joint produce the strongest glue bond? To answer these questions, we tested bridle joints with three types of fit: tight, snug, and loose.
Bridle joints: First make 'em, then break 'em
We settled on a bridle joint, also known as an open mortise-andtenon joint, because it has no mechanical strength and instead relies entirely on the glue bond. It also was easy to adjust the width of the tenon to change the fit of the joint to test each glue's gap-filling ability.
Precise milling—To lessen the impact of a rogue result, John white, Fine Woodworking's shop manager, made three samples of each joint for a total of 162 samples.
From Fine Woodworking #192
For the full article, download the PDF below:
View PDF