Veneer Virtuosos
A sampling of the stunning creations from the latest Veneer Technologies competition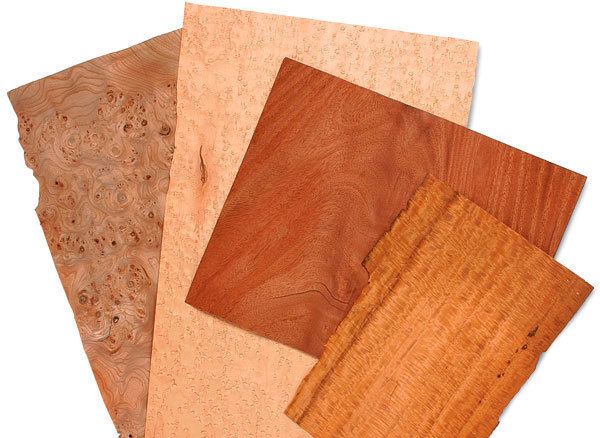 Explore the work of veneering masters.
Since 2005, Veneer Technologies Inc. has held a juried competition to recognize excellence in woodwork with veneer. The pieces below are a few of the 2007 award winners.
Veneer Technologies is always collecting entries for its competition—to enter, go to www.veneertech.com/challenge.
Paul Schürch
Santa Barbara, California
Grand Prize Winner
Photo: Wayne McCall
With decades of marquetry under his belt, Schürch said that this buffet was a piece of cake, including creating the bow-front shape. The big challenge was working with the unstable pear veneers, he said. Schürch used mahogany for the case, Nigerian satinwood for the ribbon inlay, walnut burl for the borders, and tulipwood banding. A lapis lazuli tack inlaid into the front left foot "holds" the flowing ribbon in place. The finish is conversion varnish.
Trish McCulloch
Toronto, Ontario
Honorable Mention
Photo: Trish McCulloch
McCulloch calls this piece a "modern hope chest" because it combines the traditional form with modern design, materials, and techniques. The interior walnut chest is a traditional frame-and-panel construction finished with oil, while the exterior shell is molded curly-maple plywood with a lacquer finish. The bottom is unfinished aromatic cedar.
Don Green
Delhi, New York
Honorable Mention
Green designed this chest of drawers to have a modern look, but his construction methods were traditional. He hand-cut all the dovetails and used mortise-and-tenon and half-lap joinery. The stand is ebonized mahogany, and the chest is sapele and maple. The piece is finished with lacquer.
Billy B. McLaughlin
Warsaw, Virginia
Honorable Mention
McLaughlin's inspiration for this piece came from a plain-front Queen Anne highboy he saw in a client's house. He decided to reproduce the piece, modifying it with a crotch-mahogany face. McLaughlin estimates it took 340 hours to complete the highboy, which he finished with precatalyzed lacquer. The piece is 21 in. deep by 38 in. wide by 84 in. tall.
Craig Thibodeau
San Diego, California
Honorable Mention
Photo: Andrew E. Patterson and courtesy of SDFWA
Thibodeau's sideboard also won the Best of Show, awarded by Fine Woodworking magazine for the 2007 Design in Wood exhibition organized by the San Diego Fine Woodworkers Association. It also picked up first place in the veneering/marquetry category. The piece combines marquetry with bent laminations on a curved front. Finished with varnish, the piece is primarily figured anigre, wenge, and maple. The marquetry is dyed poplar, holly, pau ferro, mother of pearl, and abalone.
Chris Hedges
Gallipolis, Ohio
Honorable Mention
Photo: Chris Eaton
This Philadelphia secretary also swept the AWFS Fresh Wood student competition in July 2007, taking first place in the reproduction category, best in show, and the people's choice award. Hedges, from Rio Grande Community College, estimates it took 600 hours to complete this copy of a piece by Louis Irion. The woods are quartersawn curly cherry, madrone burl, and poplar. Hedges finished the piece with aniline dye, tung oil, garnet shellac, oil glaze, and wax.
Kent Townsend
Salida, Colorado
Honorable Mention
Townsend estimates it took 500 hours to make this Ruhlmann-inspired sideboard. He set out to make a difficult piece because he enjoys complicated work; it forces a high level of involvement with his woodworking. The piece is Macassar ebony, with pearwood used in the drawers. The finish is lacquer.
Russell Garcia-Lechelt
Pacifica, California
Honorable Mention
Photo by Andrew E. Patterson and courtesy of SDFWA
Garcia-Lechelt's demilune table won first place in the Traditional Woodworking furniture category at the 2007 Design in Wood competition organized by the San Diego Fine Woodworkers Association. It piece took over 200 hours to complete. It includes floral marquetry set in a Brazilian rosewood top. The skirt is coopered mahogany and the finish is a burnt-sienna glaze topped with 30 coats of hand-rubbed lacquer.
-Published 3/21/2008