Understanding Figure in Wood
How it happens, what to call it and how to work it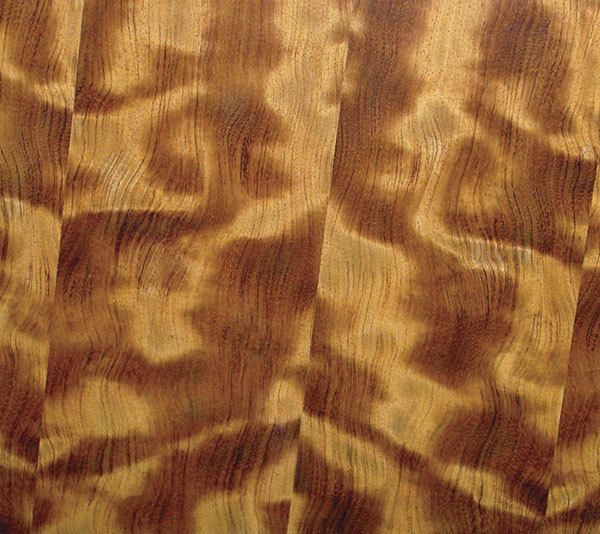 Synopsis: Woodworking might be a lot easier if all wood were straight-grained, uniform, and easy to work. But it would be a lot less interesting. Highly figured wood offers a unique beauty and a challenge that few can resist. What causes one tree to have uniform grain and the other to have a wild and beautiful fiddleback pattern? Tom Schrunk, who works extensively with exotic grain, gives a primer on figure — the types, the causes, and the challenges it presents. This article includes definitions and origins of different figure types such as crotch, ray fleck, spalting, stump or butt, bird's eye, blister or quilt, burl, curly, tiger, fiddleback, mottled, bee's wing, pommele, plum pudding, and ribbon-stripe.
Imagine woodworking without any figured woods: no bird's-eye maple, no crotch mahogany, no walnut burl, no curly cherry—just foot after board foot of straight-grained, uniform wood. sure, life would be easier: straight-grained wood dries predictably, works easily, and can be used to make solid-wood furniture. On the other hand, burl or crotch wood can crack or warp on drying; solid pieces may be impossible to work with; and just try planing that board of bird's-eye maple. But like moths to the flame, woodworkers are drawn to highly figured wood by its unique beauty and even the challenges it presents. We all know figure when we see it, but how is it defined scientifically? What causes one maple tree to have uniform grain and its neighbor to have the wildest fiddleback pattern? Not all the causes of exotic figure are known, but I'll describe some theories, give a glossary of the many names for wood figure, and offer a few tips for working these difficult but beautiful woods.
The greater the stress, the better the figure
"Figure" is a deviation from normal straightcell orientation. this deviation can be quite organized, as in fiddleback or blister, or it can be random, as in bird's eye or burl. While the individual cells are too small to see, we read the figure by a change in luster, and sometimes in cell color.
The causes of figure are much debated, but stress seems to be a factor, whether it comes from climate, insect or fungus attack, or physical damage. Bigleaf maple trees that lean tend to produce both blister and quilt figure; the northern range of the sugar maple produces far more bird's eye than warmer regions; burl is likely started by a dormant bud that divides and subdivides profusely.
Some types of figure begin more easily than others. Development of a corrugated or washboard pattern is common in large trees. It is normally found in the radial or quartersawn plane and produces the pattern known as fiddleback. When this undulant growth occurs on the tangential or flatsawn plane, the result is a trunk that looks like a corrugated drainage pipe. this curly figure, frequently found in birch, gives luster of varying beauty, but the variation in vessel openings can result in a blotchy look when stained.
From Fine Woodworking #192
For the full article, download the PDF below:
View PDF