Simple, Precise Tapering Jig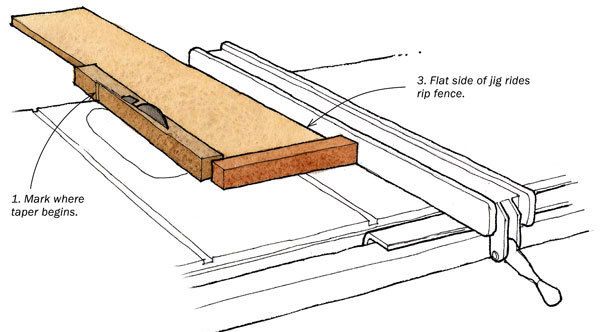 This tapering jig starts with a base of 3/4-in.-thick plywood, about 8 in. wide by 5 ft. long. Attach a 1-1/2-in.-sq. by 10-in.-long stop to one end. Then install a flathead screw in the plywood base 1/2 in. from the stop.
To use, mark where you want the taper to start on the workpiece and determine the amount of taper you need. If you want a 1/2-in. taper, for example, unscrew the screw 1/2 in. Place the jig against the rip fence with the bottom of the leg against the stop and the screw. Slide the rip fence over until the blade just touches the mark where you want to start the cut.
The 5-ft.-long jig gives you plenty of support against the rip fence, plus it will handle legs of virtually any length.
Drawings by Jim Richey.

Drawings by Jim Richey.