Festool - RO 150 FEQ Random-Orbit Sander
This 6-in. sander from Festool has several unique features, such as a very wide sanding range.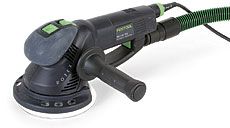 A new 6-in. sander from Festool, model RO 150 FEQ, has unique features that woodworkers will appreciate. The one I liked most was its sanding range. When I wanted to remove a lot of stock from a large surface, the 750-watt motor (almost 1 hp) could make the tool sand exceptionally aggressively. When I wanted to lightly sand a relatively small or narrow part, like 2-in.-wide rails and stiles, the tool could do that, too.
The highly aggressive sanding action comes courtesy of a combination eccentric and rotational motion that Festool calls Rotex. But Rotex isn't the only option. Simply flip a switch on the tool and you instantly convert to a less aggressive random-orbit motion, a better choice for finer sanding.
The gearbox is fully enclosed to protect it from dust. Festool claims this helps increase the life of the tool.
Because the sander is designed to be used with a shop vacuum, it does not include a dust bag. When hooked up to a shop vacuum, the sander did an excellent job of collecting dust. Indeed, it left no noticeable dust on the workpiece or in the air. Without the vacuum, it created a dust storm, especially when in Rotex mode. Festool has fitting options for various shop vacuums.
Another good feature is an edge protector that can be added or removed quickly. In place, it prevents the edge of the sanding disk from contacting (and possibly scratching) an adjacent surface.
A rubber collar on the outside of the sanding pad acts like a brake when the sander is turned off. It reduces wind-down time to 3 or 4 seconds, so you can put it down almost immediately.
The Festool RO 150 FEQ is a great sander with many well-thought-out features. But at $440, the quality and innovation don't come cheap. For more information, go to www.festoolusa.com or call 888-337-8600.