Woodtek - Woodtek 148-271 Hybrid Tablesaw
The Woodtek 148-271 features digital angle readout, a built-in rolling stand, and a wide rip capacity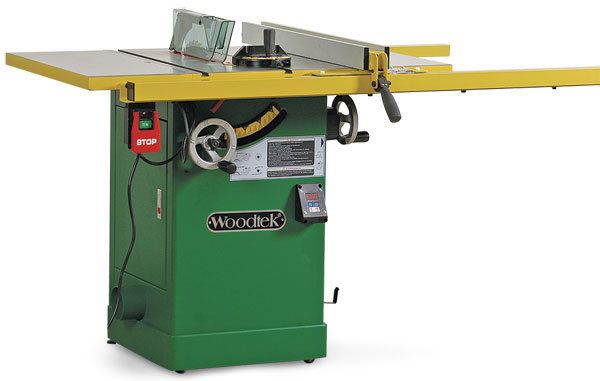 The Woodtek 148-271 includes digital angle readout and a built-in rolling stand. At 36 inches, the tablesaw featured the widest rip capacity of machines tested. It also showed the most cutting power in our tests. When the tablesaws were pushed fairly aggressively, to 7-1/2 fpm, the Woodtek was the only one that didn't bog down. The blade-elevation crank among is among easiest to turn and the power switch is user-friendly.
I tested the Woodtek's blade-to-slot parallelism (parallel test) and the machine showed 0.002-in. (at 0º) and 0.008-in. (difference @ 45º). I also checked arbor runout (measured at the face of the arbor-flange) and the Woodtek had 0.000-in.
Note: The Woodtek saw is available at Woodworker's Supply (800-645-9292).
-Updated price 10/15/08