Build a Multidrawer Cabinet: Cut Precise Dadoes and Rabbets
Learn how to make exacting cuts on the tablesaw, in part two of this video workshop.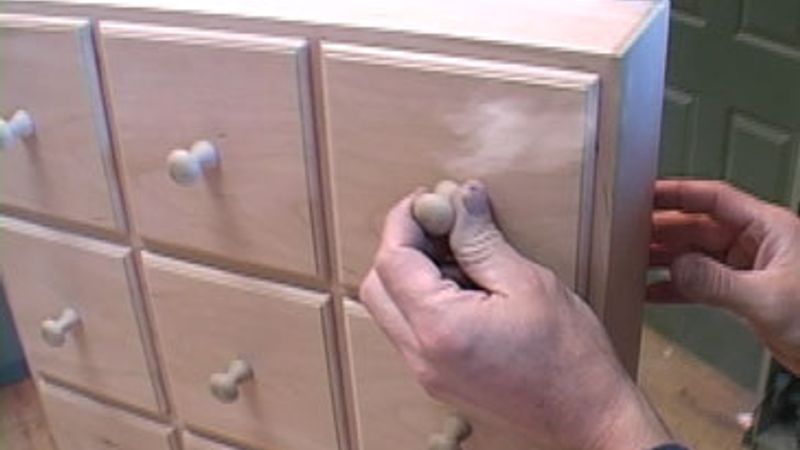 Matthew Berger, Gary Junken, and Michael Dobsevage
ABOUT THIS PROJECT
Author, woodworker, and teacher Chris Gochnour goes step-by-step through the construction of a versatile Shaker-style 12-drawer wall cabinet. Watch the process on video and download the plan. To ask a question about this project, talk to David Heim, managing editor of FineWoodworking.Com, in the Ask the Experts forum.
ASK A QUESTION    |   DOWNLOAD THE PLAN
ON VIDEO: BUILD IT STEP-BY-STEP
PART ONE: Introduction


Download the plan and see the finished cabinet up close to get a preview of what's to come in this multipart video workshop.

Now Playing
PART TWO: Cut Precise Dadoes and Rabbets
The success of a project like this depends on meticulous layout, measurement, and joinery. In this episode, see how Gochnour cuts precise dadoes and rabbets to create a case that will hold a dozen evenly spaced drawers.

 

PART THREE: Step-by-Step Case Glue-Up and Assembly
Instruction to execute this complex glue up. Gochnour shares insightful tips and techniques along the way.

PART FOUR: Construct a Frame-and-Panel Back
Use mortise-and-tenon joints to make a frame that holds a simple, flat back panel.

 

PART FIVE: Quick and Easy Drawers
This episode covers the assembly-line part of the project. Learn how to cut tongue-and-groove joints that let you assemble sturdy drawers in short order.

PART SIX: Make a Shaker Peg Board
The Shakers used wall-mounted pegs to hold many things, including cabinets like this. In this episode, learn how to make a modern-day peg board.

PART SEVEN: Introduction to Dovetails

PART EIGHT: Introduction to Half-Blind Dovetails
Here, Gochnour begins the first of two lessons on how to cut half-blind dovetails.

PART NINE: Completing Half-Blind Dovetails
The conclusion of the lessons on dovetails. If you make one dovetailed drawer per day, by the time you've; finished the dozen drawers, you will have mastered the dovetail.

 

PART TEN: Clean-up and Glue-Up
With all the parts cut and assembled dry, it's  time to glue up the drawers and the case and prepare to finish the project.

PART ELEVEN: An Oil Finish for Cherry
In this final episode, Gochnour shows how to apply a finish that brings out the color and figure of the wood, but without leaving blotches.