Sharpening a Curved Scraper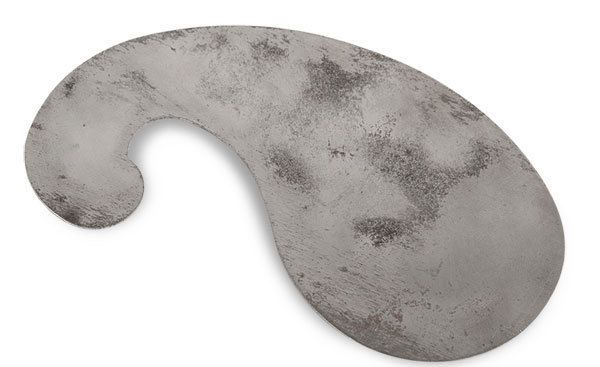 Q:
How do you tune a curved scraper without leaving flat spots when filing?
Jeff Steifel, Pittstown, New Jersey
A:
First, flatten the old burr on the edge by laying the scraper flat on a bench and flattening the edge with a burnisher. Then hold the scraper vertically by clamping it in a wooden hand screw and placing the hand screw in a bench vise. This allows you to file a longer section of the curved edge without stopping. It's important to file the edge at 90°, but don't file straight across the edge as this will leave flat spots.
Next, hone the filed edge and the two faces to remove the ragged edges left by the file and remnants of the old burrs. To prevent honing facets on the curve, hold the scraper between your thumbs, index fingers, and middle fingers. As you hone the edge, roll the scraper between these fingers while keeping it perpendicular to the surface of the stone. Then hone the scraper's faces on 800- and 1,200-grit waterstones.
Once the honing is complete, return the scraper to the hand screw and bench vise. Use a burnisher to roll a burr along both corners. Finally, with the scraper flat on the bench, straighten the burrs by drawing the point of the burnisher along the inside of each burr to achieve the correct 30° cutting angle. (If your burnisher is not pointed, grind a 60° point on the end of it.)
Photo: Thomas McKenna