Mitered Molding Simplifies Traditional Doors
Power tool technique works for any molding profile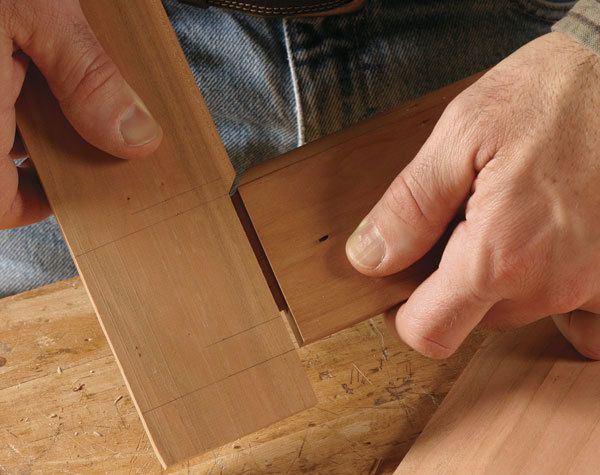 Synopsis: Sticking is the decorative molding that decorates the inside edges of traditional door frames. To join this type of profile cleanly at the inside corners of a frame, Lonnie Bird uses a simple mitering technique. This method offers greater strength than the short stub tenon created by cope-and-stick router bits, because it allows the use of a full mortise-and-tenon joint. Yet it can be accomplished with the tablesaw and router table. Bird offers tips for designing a sticking profile for use with both flat and raised panels. He also provides step-by-step instructions for laying out the mortises and tenons, cutting grooves for the panel, shaping the molding profile, and making the mitered cuts.
The term "sticking" refers to the decorative molding along the inside edges of traditional door frames. The sticking is commonly a simple molding profile such as an ovolo or a thumbnail. The challenge is joining this molding cleanly at the inside corners.
I use a miter joint that is quick and easy, requires almost no hand tools, works on any molding profile, and allows a full mortise and tenon.
If you are constructing a dozen or more doors for kitchen or shop cabinets, copeand-stick router bit sets can be an efficient way to produce a large number of doors quickly. These matched bits will "cope" the joint cleanly, sculpting one side to match the other. But these bit sets are expensive, and they deliver only a short stub tenon.
When making a pair of doors for a piece of fine casework, you'll want the greater strength of a full tenon and mortise. And where the sticking intersects in the corners, you'll have two choices, a cope or a miter.
A coped, or sculpted, joint is executed by hand and requires a certain amount of hand-tool proficiency. It also requires a gouge with a sweep that matches the profile of the sticking.
The miter is the easier method, bringing any profile together at a clean 45° line. Mitered sticking is a traditional technique that has been used by furniture craftsmen for several hundred years; it is time-tested. You don't need special tools or costly bits. Also, mitering allows the use of profiles that cannot be coped, such as a quirk bead or an ogee.
There may be a concern that seasonal wood movement could cause a gap to appear at the miter and show light. I haven't had this problem because the rails on furniture are typically narrow and the movement is minimal in such narrow pieces.
Traditionally, sticking is mitered using a chisel guided by a block. My method is far less time-consuming:
From Fine Woodworking #192
For the full article, download the PDF below:
View PDF