Six Essential Glues
These adhesives handle most furniture-making needs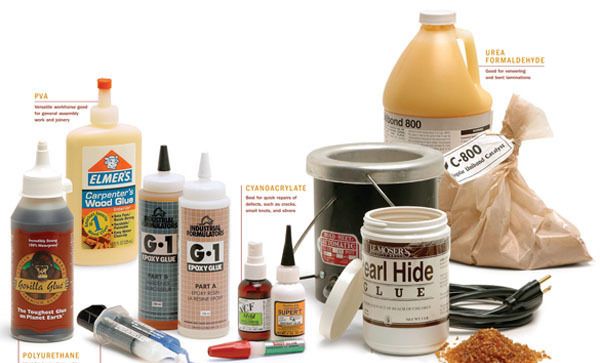 Synopsis: There is no single type of glue that's ideal for all woodworking jobs. The many varieties available have different characteristics that make them well suited to one job or another. You wouldn't, for example, use cyanoacrylates (the so-called "super" glues) to secure a mortise and tenon, but you would find them useful for fixing small cracks and reattaching slivers of wood. Contributing editor Scott Gibson looks at six types of glue that are especially useful in the woodshop: polyvinyl acetate or yellow glue, polyurethane, two-part epoxy, cyanoacrylate, hide glue, and urea formaldehyde. Here, he details the types of glue and the jobs for which each is best suited.
When I first started making furniture, I thought the chances of glue alone holding a piece of furniture together were pretty slim. Wouldn't it be a good idea, I wondered, to sneak in a few nails or screws to reinforce joints that otherwise would surely fail? But I learned that woodworking joints don't fail very often, and when they do, it's usually not the glue that's to blame.
Most woodworkers have their favorites, but few rely on a single type of glue, and for good reason. The many glues to choose from have characteristics that make them especially well suited to one job or another. Taking into account a wide range of woodworking applications, I've chosen six types of glue that will be useful in many shops: polyvinyl acetate (PVA) or yellow glue, polyurethane, two-part epoxy, cyanoacrylate, hide (both forms, dried and liquid), and urea formaldehyde (both types, one-part and two-part).
The bonding strength of each glue is derived from standard industry tests and ranges from 2,500 to 4,000 psi in shear. All of the glues are more than strong enough for general woodworking and furniture making, so to determine your choice, consider other properties such as shelf life, open time, clamp time, structural gap-filling properties, and pot life. Open time is the length of time that glued components can be left open to the air before they must be assembled. Each glue has a limited shelf life, which can be shortened by exposure to air, moisture, or heat. How long glue can sit around and still work as advertised varies from six months to several years. Two-component glues such as epoxy and urea formaldehyde also have a pot life, or the amount of time that the adhesive remains usable when left in its mixing container.
All glues differ in their levels of toxicity; if in doubt, get a Material Safety Data Sheet (MSDS) from the manufacturer for more information (these documents also are accessible on the Web).
From Fine Woodworking #176
For the full article, download the PDF below:
View PDF