Ridgid - R2930 Router Combo Kit
This router from Ridgid features a built-in router lift and comes with a fixed and plunge base.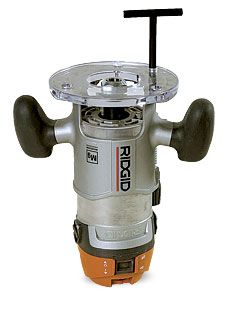 The Ridgid R2930 router is one in a new class of routers that features an integrated router lift that makes it ideal for use in a router table. We tested similar routers from seven manufacturers. Our tests included checking runout with a dial indicator and inspected how each router worked by testing it with a tall molding bit.
There are two ways to change a bit on the Ridgid and both were inconvenient. You can crank the collet nut above the table and use one wrench. But to do that, you must reach under the table to press the spindle lock. Or you can use two wrenches. But to do that easily you must take the router out of the table. On the upside, the router comes equipped with a fixed base or a plunge base.