Bostitch - CAP1516 Trim Air Compressor
The Bostitch Trim Air compressor is light-weight and portable with adequate power for finish nailing tasks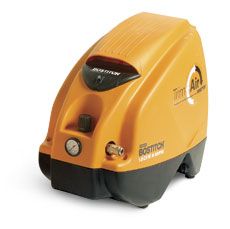 Judging by this new offerings from Bostitch , shop compressors are getting smaller, quieter, and more efficient. These tools handle the workload of finish nailing without the bulk and noise often associated with larger compressors, and I was pleasantly surprised at how this performed.
The Bostitch Trim Air (model CAP1516) is relatively quiet, and its featherlight weight and convenient handle make it easy to carry. The tool features a quick-connect hose fitting on the side; however, to avoid the hose recoiling, you'll need to use two hands to disconnect it. The 1.6-gal. tank recharges in around 45 seconds and refills completely in around 15.
The Trim Air has only a line-pressure gauge; a tank gauge would make it easier to tell how long the compressor will take to fill.
With a full tank, this compressor was able to drive about 15, 1-1/4-in. finish nails or 22, 1-in. brad nails before recharging.