Keeping Tools Sharp
Avoid dirt and other hazards to get more mileage from bits, blades, and chisels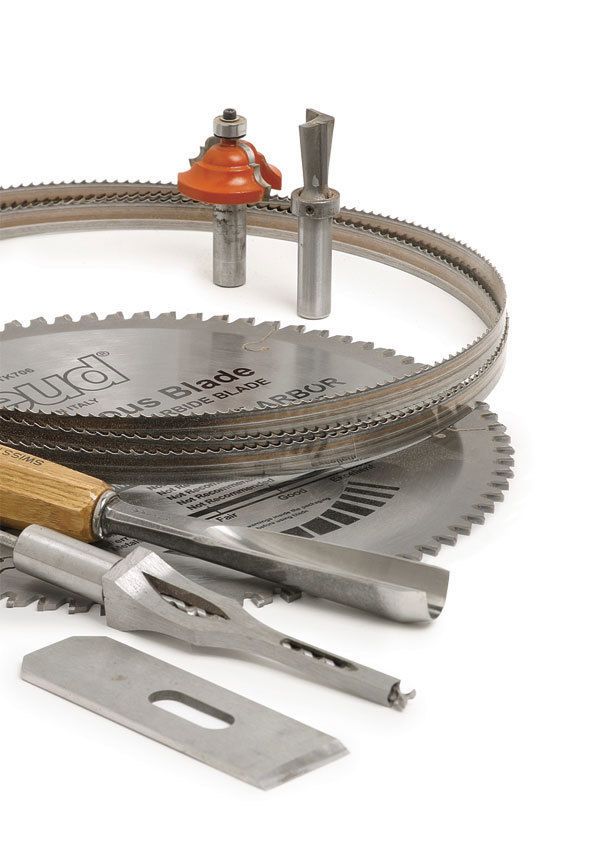 Synopsis: Edge-tool sharpening is one of the most time-consuming tasks in the shop, and one of the most crucial. Good workmanship depends on sharp cutting tools at all stages of a project, yet those tools are vulnerable to many hazards that will dull them prematurely. Contributing editor Roland Johnson finds that a few preventive steps go a long way toward keeping his tools sharp — cleaning lumber before milling; scrubbing and lubricating cutting blades on bandsaws, tablesaws, and chopsaws; protecting sharp tools such as chisels, drill bits, and router bits from other metal surfaces that will dull them; and doing regular touchups to maintain a tool's edge before its performance suffers.
From Fine Woodworking #189
One of the most time-consuming tasks in a woodworking shop is sharpening, whether that means grinding and honing chisels, running to the store for a new cutter, or sending planer blades out to be sharpened.
Although it's a chore that can't be avoided, it can be delayed. A variety of hazards will dull cutting edges prematurely. Steering clear of them will let you work more and sharpen less. Among the worst of these is dirt. Cleaning debris off rough lumber before machining can help maintain a sharp edge on jointer and planer knives and sawblades. Removing pitch and sawdust to prevent buildup helps prevent cutters from dulling too soon. It's also important to protect your tools from collisions with other metal or hard surfaces that can mar a sharp edge.
Clean lumber before milling Roughsawn lumber holds lots of dust and debris, which can act like sandpaper on cutting tools. A light brushing will not always get it out of the surface pores. The best way to clean the surface is to use compressed air and a wire brush. A quick blast will remove the bulk of dirt and debris, and a good brushing will dislodge the remaining grit. It's best to clean lumber outdoors so as not to spread dust on nearby material, tools, or workbenches. Although it cleans a bit more slowly than compressed air, a good shop vacuum can be used indoors because it will not spread dust around the shop. Used lumber poses different hazards. I use a metal detector to find embedded nails or screws that can dull or damage tool edges and remove them before proceeding with the cut.
Hand-scraping or chemical removal will take care of old paint, which will dull a cutting edge quickly and leave a residue on tools. But the wood has to be pretty valuable to go through all that hassle. The best bet is to avoid painted lumber altogether.
For the full article, download the PDF below:
View PDF