Steel City Tool Works - 60100 Midi-Lathe
Steel City's midi-lathe features variable-speed control, a 10-in swing, and the capacity to turn up to 15 in. between centers.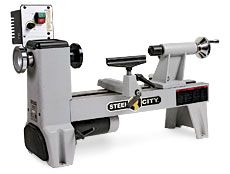 The Steel City 60100 midi-lathe is a recent arrival to the market since our last midi-lathe (also called mini-lathe) review in 2002. The Steel City version operated smoothly and accurately and came with all the standard accessories for getting started in woodturning. 
Steel City's midi-lathe has the advantage over most in its class when it comes to speed control. It has a variable-speed drive, which I love because I can go from roughing a blank at a slow speed to sanding a finished piece at a high speed with the turn of a dial. The lathe is also available with manual speed control (model 60170), in which speeds are changed by moving a belt on stepped pulleys. Without the variable-speed drive, the lathe doesn't stand out particularly.
The lathe comes with a faceplate and centers for the headstock and tailstock. It has a 10-in. swing, a 15-in. capacity between centers, and the ability to add a bed extension for a capacity of 37-3/4 in. This is equivalent to most of the lathes on the market. It does not offer outboard turning.