Festool - TS 55 EQ Circular Saw
The next-generation of Festool's plunge-cut circular saw (model TS 55 EQ) comes with a 55-in. guide rail and cuts up to 2-1/8 in. deep.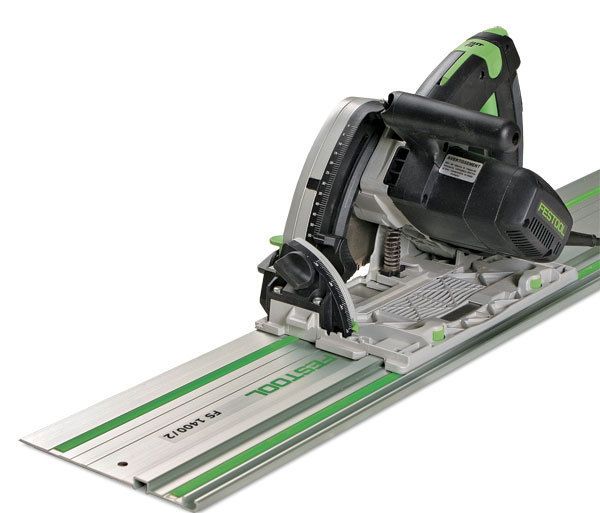 The Festool TS 55 EQ is a circular saw like no other. With its splinter guard, razor-sharp blade, and well-engineered guide system, the saw makes long, straight cuts—whether on plywood, tabletops, or cabinet doors—extremely accurately, cleanly, and easily, virtually eliminating the need for a larger, more expensive panel saw or sliding tablesaw.
The Festool adds a unique plunge action, opening up a range of other tasks. I work with a lot of cabinet-grade plywood, and while I have a panel-saw attachment for my tablesaw, wrestling the 4×8 sheets onto the carriage without scratching the veneers or throwing out my back is a chore. With the TS 55EQ, I can whittle down large sheets to a manageable size quickly and cleanly.
The key to the saw's accuracy is the 55-in. guide rail made from extruded aluminum. The base of the saw mates with and slides effortlessly along tracks in the guide rail. You can correct for any slop in the fit by tightening two small cam screws on the saw's base. Two foam strips under the rail provide a firm footing to hold it in place without clamps, and they protect the wood surface from scratches. Simply align the edge of the rail with the cut line, set the saw on the rail, and make the cut.
The guide rail mates with Festool's OF 1010 EQ router (with guide rail attachment, No. 488752), making the system even more valuable and versatile. Key features of the saw include a plunge depth stop (metric), a 1-in. and 1-7/16 in. dust port, and a splitter to prevent binding. A splinter guard acts like the zero-clearance insert in a tablesaw to help make splinter-free cuts, even close to the edge of plywood, in stacks of veneer sheets, and on cabinet doors. The controls are easy to reach and the saw is comfortable to use, portable, and stores easily.