SPECIAL REPORT: New Tools From IWF
Breaking news coverage of the 2006 International Woodworking Fair in Atlanta where tools were the main event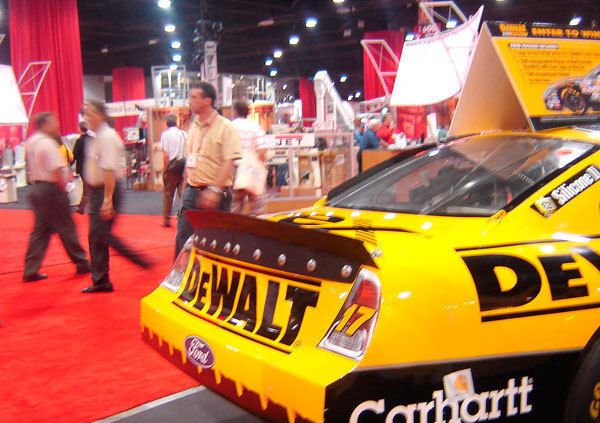 ATLANTA —  The 2006 International Woodworking Fair (IWF) concluded last weekend at the Georgia World Congress Center in what was expected to be the largest event in its history.
More than 22,000 attendees showed up for a look at new tools for the year, and to talk face to face with more than 1,400 manufacturers that set up displays on nearly one million square-feet of convention center floor space.
Digital accuracy for miters
While much of the new products announced here come from the big manufacturers, some lesser-known innovators have made a big splash. An inventor and furniture maker named Mario Salazar debuted here a digital miter gauge, which
doubles as a blade-angle gauge. Salazar has spent five years bringing his ProMiter 100 to life and came to the show to shop for potential partners and wow showgoers with the unique tool.
"There's been a lot of interest from everyone," Salazar said.
Hover Pad floats tools
Another inventor, Arra David, was showing off his Hover Pad, a mobile base for heavy machinery that moves tools on a cushion of air. The show stopper is being distributed by General International, which purchased the license from David for the woodworking market. A large version for tablesaws and other large machinery is expected to retail for about $250; a smaller version for bandsaws and the like will sell for about $170.
Powered by a compressor, the thin plastic platform is able to carry more than 1,000 lbs. by floating it about 1/8 in. off the ground. Similar to a roller base, it makes navigating tools through a shop easy, although it only works on smooth surfaces like concrete and laminate flooring.
Lithium ion for batteries
Several power tool makers adopting the new lithium-ion technology for cordless tools. Panasonic offered a sneak peek of
its 14.4v lithium-ion hammer driver and drill-driver, which are expected to go on sale in October of this year. Hitachi, which has set up shop in a hotel suite across the street from IWF, also used the event to debut its lithium-ion cordless tool line.
Freud has a new combo blade
Freud held a press conference early Wednesday to pull the wraps off several new products, including a new 3-1/4HP router, several router bits and accessories, and new saw-blade technologies. Most notable for the hobby woodworking set is Freud's new general-purpose carbide saw blade, known as the Premier Fusion. It has a non-stick coating that the company claims protects against corrosion and pitch build-up, and it is designed to rip and crosscut any variety of materials. A demonstration of the blade here produced chip-free cuts in veneer plywood and laminates.
Grizzly goes big with new cabinet saw
Grizzly Industrial introduced a 12-in. cabinet-style tablesaw, called the Extreme Series, which features a European-style riving knife and a 3-phase motor with a price tag of just under $2,000. The company also debuted an addition to its 14-in. bandsaw line. Model number G0555X features cast-iron wheels, an expanded tabletop, and several new accessories such as a heavy base and worklight.
Jet matches Tormek

Jet demonstrated its new wet-grinder sharpening machine, a Tormek-style sharpening system. The company says it has improved on the Tormek by adding adjustable speeds and sealed bearings, according to Ernie Conover, a Fine Woodworking contributor who consulted for Jet on the design of the tool.
More tools get upgraded
Bessey Tools showed off the newest feature on its established K-Body clamps: rubber handles. The upgrade from the standard wood handle is expected to reach customers by January 2007. Lathe maker Nova showed off a new version of its lower-priced, adjustable head lathe, model No. 16244-44, due out in December. And Lamello announced a major deal on its biscuit jointers to celebrate its 20th anniversary of inventing the tool.
Attendees compare and shop
IWF is the granddaddy of tradeshows if you're a manufacturer of tools, a professional who relies on tools to make a living, or a hobbyist tool junkie hoping to get a look at the latest gear.
"We come to see the new technology and tools," said Charlie Schreiber, a cabinetmaker who traveled to Atlanta with his wife Glenda from DeLand, Fla. "Every year I'm allowed to buy one toy. This year it's a cabinet saw."
IWF is also a major event for tool distributors, who attend to see all the new products. Bivian Quinonez, of Capital Equipment in Salt Lake City, Utah, was strolling the convention floor bright and early Wednesday. "I'm here to meet customers and do some comparison shopping," Quinonez said.
Quinonez, who supplies small-to medium-size cabinet shops with equipment, has attended the show for the past seven years. Like his business, he said that this event appears to be the biggest he's attended.
"It seems to be getting bigger every year," he said.
READ OUR EDITOR'S BLOG FOR MORE COVERAGE FROM IWF:
Our editors report from the convention floor at IWF 2006 on our Web log. Read our coverage of breaking news, view photos of new tools, and post a comment.
Posted at 3:57 p.m. on August 25
IWF06: Flying Tools With The Hove Pad
Cool inventions stand out among host of new product announcements.
Posted at 8:22 a.m. on August 25
IWF06: Norm Sighting
Norm Abram signs autographs, and Porter-Cable rejoices with 100-year birthday bash.
Posted at 6:57 p.m. on August 23
IWF06: Top Tools for Day One
After several hours of trolling the aisles, here are the tools that caught our eye.
Posted at 9:55 a.m. on August 22
IWF06: Pre Tradeshow Jitters
We're in flight today on our way to the International Woodworking Fair in Atlanta, which promises to be an action-packed couple of days for FineWoodworking.com…