Bosch - Cordless Screwdriver PS20
This small, powerful driver from Bosch features one of the company's new rechargeable lithium-ion batteries.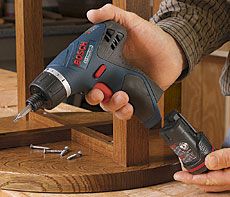 The 10.8v, lithium-ion-powered, Bosch PS20 cordless screwdriver fits comfortably in the palm of your hand and is powered by a lithium-ion battery, which is smaller and lighter than a nickel-cadmium battery of the same voltage. It also has a nose-mounted light that's helpful inside dark cabinets. Despite it's petite size, the driver is powerful in driving screws and has a reasonable battery life on a single charge.