Turning Tools Redesigned
CET Inc. launches innovative CryoSteel turning tools and reissues Jerry Glaser Hitec line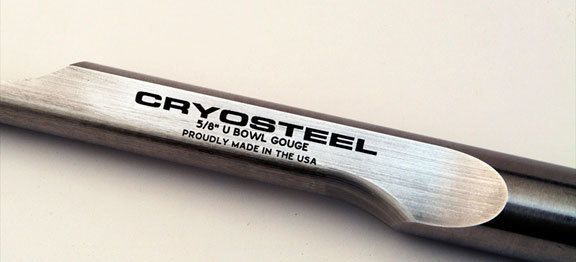 An upstart maker of woodturning tools will launch a new line of products this week. Designed by leading woodturner Stuart Batty, the new tools have unique shafts and are made from a proprietary steel said to be resistant to corrosion and able to hold an edge longer than most tool steel.
Produced by CET Inc. in Agoura Hills, Calif., the new tools will be sold under the name CryoSteel. They are being officially unveiled Thursday at the American Association of Woodturners 20th annual symposium in Louisville, Ky.
CET was founded in November 2003 and has taken two major steps to propel it to the high end of the turning-tools market. In addition to bringing on Batty as vice present of research and development, CET last year acquired the Glaser Hitec line, the breakthrough tools first introduced in 1975 by legendary toolmaker Jerry Glaser.
CET also plans to relaunch the Glaser line this week in more sizes than previously available.
As CET founder and chief executive Paulo Marin explained to Fine Woodworking, the CryoSteel tools "incorporate some of the outstanding and innovative processes created and used by Glaser for the past 30 years."
Glaser is best known for reinventing woodturning tools to be safer and stronger. His innovations improved balance, stability, and rigidity, allowing woodturners to make bigger and more complex objects on the lathe. The CryoSteel line will build on these innovations, Marin said.
The new tools will feature distinctively shaped gouge blades (see photo right: click to enlarge), or shafts, that step down from a thick base to a smaller tip. "Each type of blade is made to add more rigidity than any tool in the history of woodturning," Marin says. He also says the tools can overhang the tool rest "farther than any other woodturning tool with almost no vibration."
Lead-filled bolsters and blades on the new gouges are designed to add mass to the tools and dampen vibration. And the tools will feature aluminum handles, filled with vibration-dampening lead shot, that thread into the blades. Glaser tools were the first to use this type of interchangeable handle. CryoSteel handles will go one step further and have the shot encapsulated in a removable container, allowing users to use heavier or lighter shot, as desired, or to replace the shot with sand.
The removable containers also help keep the shot from vibrating inside the handle. (see photo right: click to enlarge)
Marin said that the proprietary steel alloys used for the tool blades are corrosion-free, with five to seven times the wear resistance of M2 steel, a high-quality steel first used by Glaser that is now commonplace.
"This is a very high-wear steel," said Alan Lacer, a professional woodturner in River Falls, Wis., whose signature skew chisel is produced by CET. "It has remarkable edge-holding properties." 
Exotic metals like those used in CET's new tools can be difficult to machine and their edges a challenge to sharpen and hone, Lacer said, but "once you get a good edge, it will last a very long time."
The CryoSteel tools are expected to sell for less than $300 each, making them among the most expensive tools on the market. They are manufactured in the U.S.
CET is also producing more than two dozen tools under the Glaser name. These include bowl gouges in 11 sizes and shapes, six sizes of spindle gouge, five skews, and five scrapers ranging in size from 5/8 in. to 2 in. Smaller versions of 13 tools will also be available in a boxed set as the miniG line. (see photo right: click to enlarge) These tools, with shorter shafts and fitted handles, are meant for small- to medium-sized turning work.
More information is available online at www.cryosteel.com.
David Heim is an associate editor at Fine Woodworking magazine.