Grizzly Industrial - 8-in. Jointer G0586
Grizzly's 8-in. jointer is a good machine at a great price.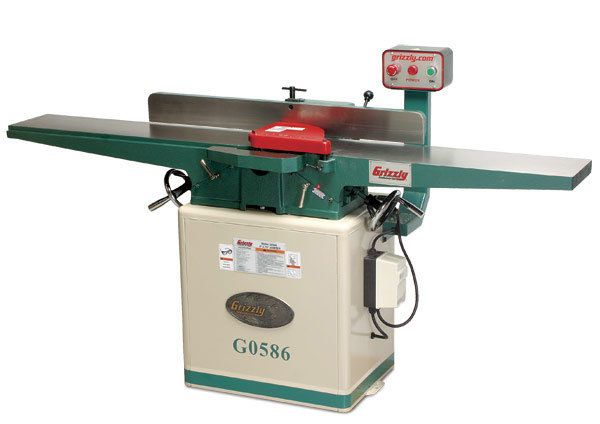 When we reviewed 8-in. jointers that sell for less than $1,400 in Fine Woodworking #180, pp. 67-73, we had hoped to include this new jointer from Grizzly, but the models were not yet in stock.
This machine arrived at the Fine Woodworking shop packaged in a sturdy crate. The fence had come loose during shipment, but aside from a minor scratch on the outfeed table, we found no other apparent damage. Once we put it together and ran some tests, we discovered another nice surprise from Grizzly.
The infeed and outfeed tables were not as perfectly flat as those on the other Grizzly jointer we tested (model No. G0500), but at an average of 0.002 in., they were well within the parameters of most manufacturers' specs.
The knives were razor sharp and set perfectly parallel to the outfeed table, and both tables were set nearly perfectly parallel to one another. The result was evident in the sample cuts on cherry and hard maple made with this machine: smooth and free of even slight veining in the surface.
This jointer has the same standard cast-iron fence found on most of the other machines we tested, but Grizzly has introduced one feature not found on the others. The fence position is controlled by a geared handwheel that moves it back and forth. The gear ratio advances the fence about 1/16 in. per revolution. Another nice feature on this machine is the beefy switch mount made of heavy-gauge steel welded together and bolted to the base. Also, an indicator light on the magnetic switch tells you when it's powered on. Priced at $625 (the lowest price of those we compared) this machine is an excellent value.
—William Duckworth is a contributing editor