Sam Maloof at 90
On his birthday, the iconic furniture maker breaks ground on a new legacy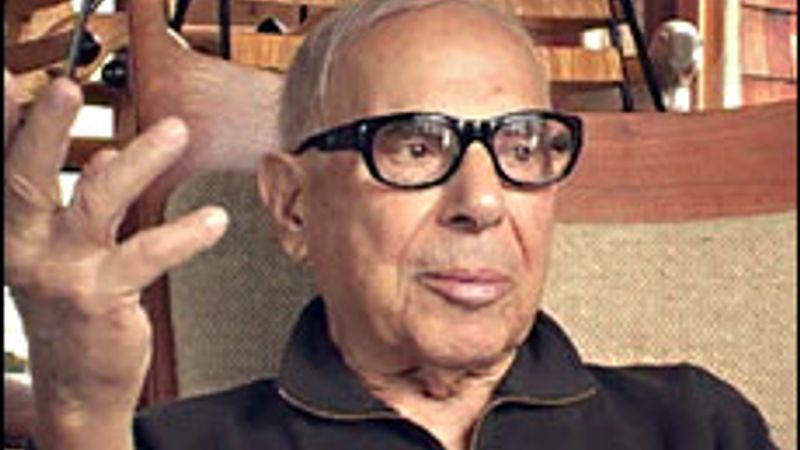 Gary Junken
January 25, 2006
ALTA LOMA, CALIF. — With shovel in hand, famed furniture maker Sam Maloof broke ground on the next chapter in his life.
On Sunday, two days before he turned 90 years old, Maloof was joined by about 200 family members, friends, and admirers to celebrate his birthday and the groundbreaking for an art gallery and archive center being built on his sprawling ranch.
The Maloof Foundation Educational Center, which is being erected in conjunction with the Sam and Alfreda Maloof Foundation for Arts and Crafts, will feature four galleries and an education facility to host seminars and workshops by a variety established and up-and-coming artists.
The planned facility is designed to embody the ideals of the Sam and Alfreda Maloof Foundation for Arts and Crafts, which was established in 1994 with the primary goal of preserving Maloof's legacy as well as the larger arts and crafts movement he is apart of.
When finished, the approximately 5,000-square-foot Educational Center will contain four exhibition halls that will host rotating exhibitions of arts and crafts. A central gallery will accommodate seating for lectures by scholars and demonstrations by artists.
The foundation and educational facility is also intended to help mentor the next generation of up-and-coming artists, something Maloof can relate to. He started out as a furniture maker in 1948 at the age of 32.
"I'd made furniture for myself and my parents using night-school facilities. And I got this offer from an interior decorator to furnish a dining room," he told Fine Woodworking in a 1980 interview. "The hardest part was telling my friend and mentor in art I was going to quit, make furniture for a living, really on the strength of this one commission. I remember agonizing over it for days.
"I got $1,200 for that job, which turned out to be exactly what the materials cost me," he said.
Times have changed for Maloof, who has become arguably the most successful furniture maker of his time. His furniture pieces capture tens of thousands of dollars and appear in elite private and public collections around the world, including the White House and the Smithsonian.
In this video, Maloof and his second wife, Beverly, talk about their latest endeavor on the day of his 90th birthday celebration. Maloof also pays tribute to his beloved first wife Alfreda, who died in 1998. He credits her as the original inspiration for his life's work. "If it hadn't been for her love for me and for what I do, this wouldn't have happened now," he said.
For more on the Maloof Foundation, see www.malooffoundation.org.