Generic - Carbide-Tipped Brad-Point Bits
The carbide-tipped bits from Highland Woodworking feature a tip with a bigger diameter than the shank. It is designed to improve chip removal.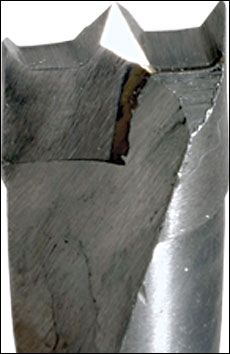 The author tested eight brands of drill bits for the accuracy of their stated dimensions, the efficiency of their design, and their chip-clearing ability. The 3/8-in. bits were selected for the most rigorous tests, drilling 200 holes in hard maple and 875 in particleboard. The 3/16-in. bits were tested for clogging in pine; the 1/2-in. bits were tested on white oak. He found that the spade-shaped bits performed the worst, the W-shaped bits produced mixed results, and the spur-shaped bits were best overall.
The carbide-tipped bits from Highland Woodworking cut clean, accurate holes in plywood and maple and drilled almost 2 in. deep into the white oak. The design of these bits is slightly different from the others. While the tip of the 3/8-in. bit measures 0.375 in., the shank was reduced to 0.350 in. This design gives excellent chip removal but is unsuitable for a doweling jig. These bits scored an excellent on the entry-hole rating, a good/fair on the through-hole rating, and an excellent in chip clearing.