Jet - 8-in. Jointer JJ-8CS
Jet's 8-in. jointer features a table that is adjusted with a handwheel and a small table-lock lever on the side of the machine.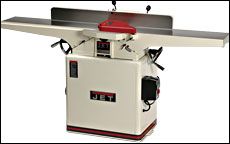 The author selected 11 commonly available 8-in. jointers ranging in price from $650 to $1,350, all with either a 1-1/2-hp or 2-hp motor, and evaluated the beds, tables, fences, knives, and ease of making adjustments for each. The table of the Jet is adjusted with a handwheel, and the table-lock lever is on the small side. The fence-locking lever on this model is located in back, and it had a tendency to slip and hang up the fence. Finally, the knives arrived nicked and had to be honed before using.