Delta - Mobile-Base 50-274
Delta's dedicated mobile base is available under a variety of model numbers to accommodate different tools.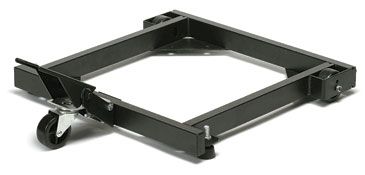 Mobile bases offer the convenience of being able to relocate machinery easily, allowing woodworkers to use shop space efficiently. The foremost requirement for a mobile base is that it be strong and stable. It must not buckle under the weight of a machine, and it must not wobble while the machine is in use. It is an added benefit if it transports a machine with ease and if its handles and foot levers are easy to see and to use.
I tested seven mobile machine bases, both dedicated and universal, to move a couple of bandsaws around the shop. They ranged in price from $50 to $100 and offered a good cross section of what is available. The Delta 50-274 dedicated base was easy to assemble and strong for its size. The locking system worked well: One step locked it and a flick of the toe released it. It's a stable base despite a little tilting.