Wizard Detectors - Lumber Wizard Metal Detector
The Lumber Wizard locates metal buried in wood up to 6 in. thick.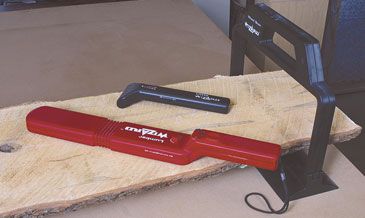 Paging through a woodworking catalog recently, I came across an inexpensive metal detector. Neat idea, I thought—find that hidden nail before it finds a sawblade, planer blade or a jointer knife. I wondered whether it would work and whether I should gamble $20 to see. A few hours later, Fine Woodworking called, asking if I'd like to review three metal detectors to find out how well they worked and if they were worth the money. If only this kind of thing would happen when I was wondering about the latest Honda sports bike.
Wizard Detectors currently produces three metal detectors for woodworkers: the Little Wizard ($20), the Lumber Wizard ($100) and the Wood Scan Wizard ($140). In short, they all work well, as long as the metal you're looking for is bigger than a 4d (1-1/2 in. long) nail. Smaller pieces of metal are detectable, sometimes easily, but not consistently enough to make finding them as breezy as waving a wand over a board once or twice.
The test I ran was simple. I pounded several 1/2-in.-long brads and 4d nails into the edge of a piece of cherry. Then I tried to find them. The Little Wizard found all of the 4d nails, though it took maybe 10 passes over one that was 1-1/2 in. from the surface. It had more trouble with the brads: It couldn't pick up the brad 1-1/2 in. from the surface, though it did find one 1 in. deep.
The Little Wizard had a much harder time finding nails oriented perpendicular to the head of the detector. It did better when the nails ran parallel to the detector head. The company advises a circular motion while scanning, which did indeed solve this orientation problem.
The Lumber Wizard has a head that's 7 in. long, compared to 2 in. for the Little Wizard, allowing you to scan a larger area in the same amount of time. Plus, it's more sensitive, detecting my hammer 16 in. away with a loud wailing siren, a wild flashing light and even a vibrating handle (the Little Wizard simply lights up). It was able to detect all of the brads and nails with more vigor. And it found them at a greater distance. Oddly, though, the Lumber Wizard didn't pick up the 1-in.-deep brad, which the Little Wizard did.
The Lumber Scanner, especially for the price, didn't impress me. It's a rectangular hoop designed to detect all four sides of a board (up to 6 in. thick by 12 in. wide) at once. It detected all of the 4d nails with the same enthusiasm as the Lumber Wizard did, but it had a harder time detecting the brads than the Little Wizard. Proximity to the edges of the scanner was important. I could pass three brads through the center of the detector without a response, though closer to the edges it wailed heartily. The scanner couldn't even pick up a 1/2-in.-deep brad right next to the edge.
Interestingly, when set to highest sensitivity, all of the detectors made false alarms when moved around too quickly. This made the process of detection relatively slow. It took about two minutes to scan a 2-in.-thick by 18-in.-wide by 7-ft.-long board with the Lumber Wizard, and about twice as long with the Little Wizard.
Would I scan every board and sheet of plywood that comes into my shop? Probably not. But the next time a friend wants to resaw some salvaged lumber on my bandsaw, I'll be mighty glad to have one of these detectors handy.
Which one would I keep? If I worked a lot of salvaged lumber, I'd buy The Lumber Wizard. It's more powerful and easier to use than the Little Wizard. But for occasional use, the Little Wizard is perfectly adequate.