Porter-Cable - Laminate Trimmer Single-Base 310
The Porter-Cable 310 trimmer has an adjustment ring that allows you to fine-tune the depth of cut.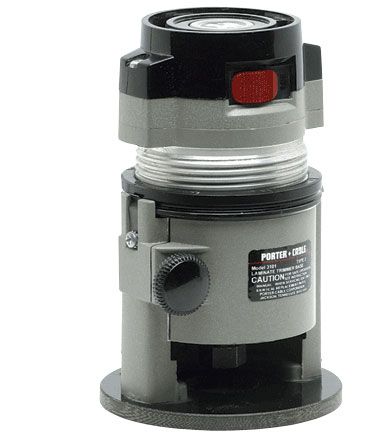 After evaluating 10 laminate trimmers, both single-base and multiple-base models, it became clear that several qualities contributed to making a trimmer user-friendly. While none of the trimmers could do everything, the best ones were light enough to use with one hand; had a switch that could be operated with the hand holding the tool; didn't have to be taken apart for bit changes; gave the user a clear view of the cutting action; didn't have lots of small parts to get lost; and let the user keep the bit perpendicular to the router base while adjusting the depth of cut. Here's how the Porter-Cable fared:
Advantages: Porter-Cable's production trimmer is heavy-duty and the design is very stable. The round body was comfortable to hold right-handed, and the switch is in a convenient location. This tool had the best vertical adjustment of all the trimmers tested. An adjustment ring screws up and down on the body, and then locks into the base, allowing for easy micro-adjustments. This tool accepts the standard Porter-Cable edge-guide kit, and the subbase accepts standard Porter-Cable templates.
Disadvantages: The subbase is black and has a small hole, which made it difficult to see what I was cutting. For left-handers, the clamp knob can get in the way.