DeWalt - Laminate Trimmer DW673K Multiple-Base
The DeWalt trimmer is nicely balanced, has a side switch that can be operated with one hand, and an easy-to-use fence adjustment mechanism.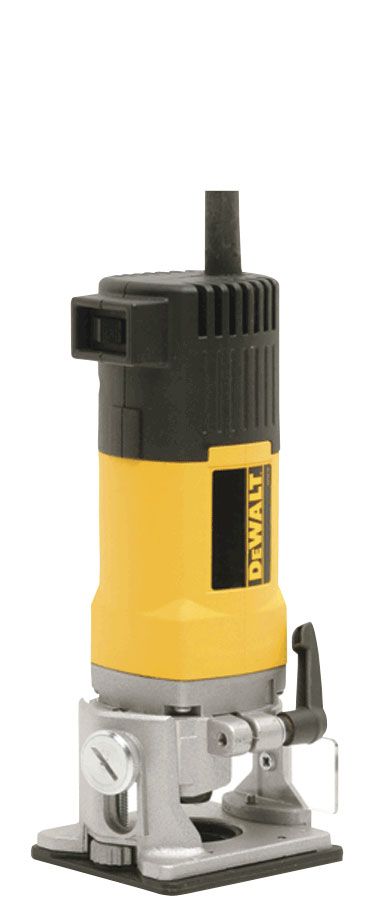 After evaluating 10 laminate trimmers, both single-base and multiple-base models, it became clear that several qualities contributed to making a trimmer user-friendly. While none of the trimmers could do everything, the best ones were light enough to use with one hand; had a switch that could be operated with the hand holding the tool; didn't have to be taken apart for bit changes; gave the user a clear view of the cutting action; didn't have lots of small parts to get lost; and let the user keep the bit perpendicular to the router base while adjusting the depth of cut. Here's how the DeWalt fared:
Advantages: The DeWalt is nicely balanced and has a side switch that can be operated with one hand. Its bigger base makes it stable, and each base is held in place with a finger-locking arm, so there are no screws to lose. The trim guide was easy to install with captive screws that won't get lost, and the adjustment was tight and true.
Disadvantages: I couldn't change the bit without taking off the base. Because the spindle-lock button is spring loaded, considerable pressure is required to hold it in place, which made the operation awkward. When making vertical adjustments, tightening the base can change the bit's depth and position. While the plastic storage case is well made, the base has to be removed to store the tool.