Makita - Laminate Trimmer 3707FC
Makita's laminate trimmer is lightweight and has two lights to illuminate the work surface.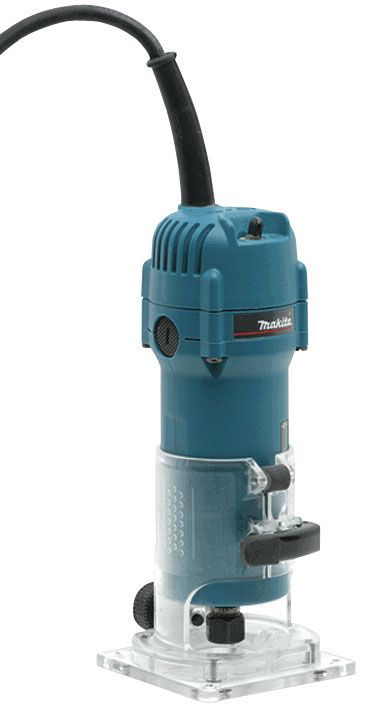 After evaluating 10 laminate trimmers, both single-base and multiple-base models, it became clear that several qualities contributed to making a trimmer user-friendly. While none of the trimmers could do everything, the best ones were light enough to use with one hand; had a switch that could be operated with the hand holding the tool; didn't have to be taken apart for bit changes; gave the user a clear view of the cutting action; didn't have lots of small parts to get lost; and let the user keep the bit perpendicular to the router base while adjusting the depth of cut. Here's how the Makita fared:
Advantages: The lightweight tool was a pleasure to hold and easy to use. The base is clear plastic with two lights that illuminate the worksurface, so I could easlity see where I was cutting. Although the switch is on top, the tool still could be used with one hand. An electronic speed control kept the speed constant even while the tool was under load. The trim guide was easy to install and remove and could be adjusted tightly. This unit ran smoothly and was relatively quiet.
Disadvantage: The vertical-adjustment control was inexact but adequate.