Jig Surfaces Rough Stock with a Router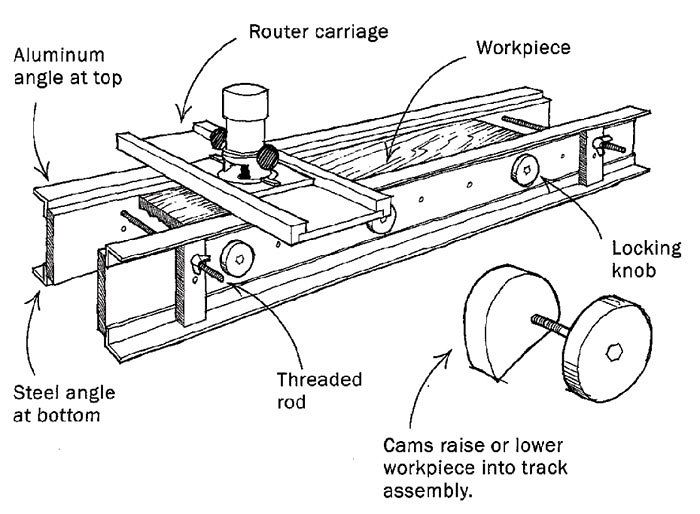 For the woodworker in a small, low-budget shop, Tim Hanson's router-surfacing fixture (Fine Woodworking #77, pp. 42-43) offers the advantages of simplicity, accuracy and small storage requirements. When I set out to build Hanson's fixture, I couldn't find some of the components he used, so I revised the design as shown above.
As a substitute for the square, extruded-aluminum box girders in Hanson's fixture, I made the side rails of 1/2-in.-thick, 7-in.-wide pieces of hard maple. To stiffen the rails I added two angle irons to each one, iron below and aluminum at the top. The aluminum is a safety feature in case the rotating router bit ever contacts the metal. Other components include six cams with locking knobs, for aligning the top surface of the workpiece, some threaded rod to clamp the workpiece in place and a carriage for my router. For the surfacing I use a 1-1/4-in. mortising bit.
To use the fixture, set the rough board between the rails and adjust the cams to expose the desired amount of wood to the bit. Then lock the board in place by tightening the threaded rods, and plane the board from right to left, advancing about half the diameter of the bit with each new cut. Try to maintain a regular pattern of movement of the router and bit. When one side is finished, turn the workpiece over, readjust the cams, if necessary, and plane the other side.
There are two important points to consider in constructing and setting up this fixture. First, the height of the rails must remain uniform along their entire length. Second, the rails must both lie in the same plane. This must be carefully checked with a level at both ends of the rails. Failure to do this will result in a workpiece that has been carefully planed with a twist along its length. Install shims as needed between the bottom rails and the benchtop to level the top of the rails.
I wouldn't want to tackle 100 bd. ft. of lumber at one time with this fixture. But it does offer those with a small, low-budget shop the ability to work with rough wood and to mill it to any thickness. It joints and tapers with precision. And it produces a beautiful surface on curly woods that are difficult to work with other tools.
John M. Van Buren, Herndon, Va.
Fine Woodworking Magazine, October 1999 No. 138