HTC - HPR-18 Roller Stand
This lightweight roller stand has a 150-lb. capacity and a single folding leg.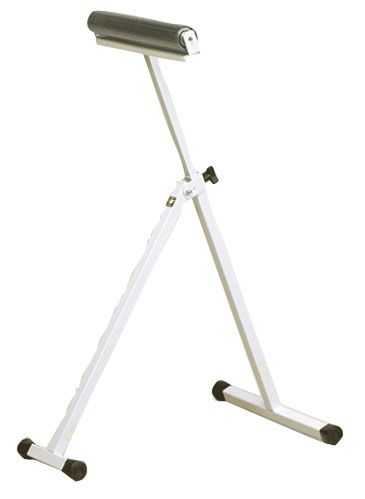 Before selecting a support stand, decide what machines you will use it with and how great a weight you expect it to bear. If you plan to use it mostly with the bandsaw, make sure the support has enough height and is stable when fully raised.
To test stands for stability, I slid an 8/4 board onto them off a flat surface. Stands that were unable to lift the board 1/2 in. and instead skidded across the floor or were pushed over got a poor rating. Success at 1/2 in. rated fair, and success at 1 in. rated good.
The best thing about this lightweight, 150-lb.-capacity stand is the totally non-slip rubber feet. The square post made height adjustment relatively easy, and the roller seemed robust. However, the feet are too close together to provide adequate side-to-side stability, especially with the stand raised.