Hole-Cutter for Speaker Enclosures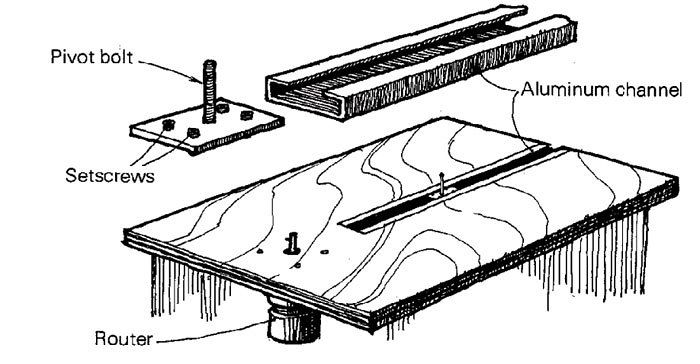 I have been involved in making professional sound equipment and speaker enclosures for a number of years. The usual construction routine requires me to cut holes up to 18 in. in diameter for speaker baffles. Here's how I use a modified router table to cut the holes accurately, quickly and safely.
My router table is constructed of 5/8-in. Baltic birch plywood. I've installed an aluminum-channel track and pivot assembly on the centerline of the table as shown in the sketch. The standard 1-1/2-HP Makita router bolted underneath the table is equipped with a stagger-tooth cut-out bit (Wisconsin Knife Works #68802).
To cut a circle on the setup I first slide the pivot assembly to the right position for the radius I want. Then I lock the assembly in place by tightening the four setscrews. Next I drill a center-hole in the baffle board and slide this over the pivot assembly's threaded rod. I secure the baffle board with a flat washer and a self-locking nut. The baffle board should rotate on the pivot with a mild resistance. Next I turn on the router, bring it up through the wood and rotate the baffle clockwise on its pivot point to cut a perfect circle. Once the device is set, you can quickly reproduce duplicate baffles.
James Campbell, Orange, Calif.
Fine Woodworking Magazine, February 1982 No. 32