Shop Tips
Simple Drill-Press Table Has Fence Built In
No-nonsense fence and table can be be made in minutes and improve the performance of your drill press.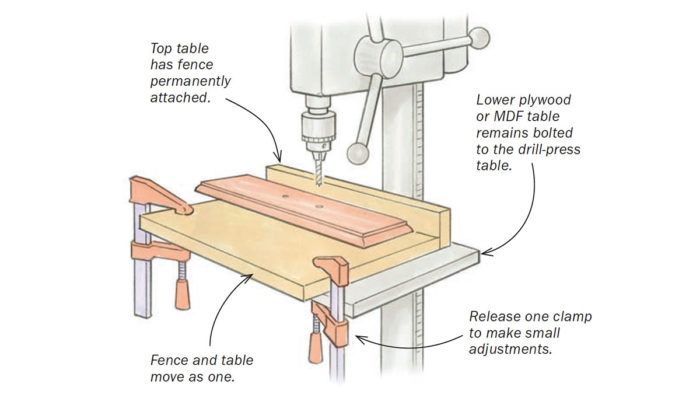 My simple but useful drill-press table is a sheet of plywood with a fixed fence. I attach it to a lower table that stays on the drill press at all times. Both can be made from plywood or MDF. This simple upper table has lots of advantages. When you need the fence, you turn the table right-side up and clamp it wherever you need to, with the table and fence moving as one. For small fence adjustments, just loosen one clamp and give one side of the table a tap.
When you don't need or want the fence—with very wide workpieces, for example—just flip the table over with the fence hanging down at the front edge. Flipping and repositioning the table also lets you expose a new area for zero-clearance support below the workpiece. In either position, the table attaches with common clamps. When the table becomes too riddled with holes to do its job, I screw the fence to the other side or make a whole new table in minutes.
—TAAVI TIMBERG, Tallinn, Estonia
Illustrations by Dan Thornton
From Fine Woodworking issue #279