Moldex - Dust Mask EZ-ON N95
The Moldex respirator offers a good fit and prevents safety glasses from fogging over.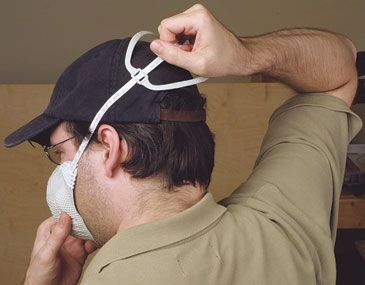 A new respirator from Moldex, model EZ-ON N95, has some features I like a lot. It fits my face better than any other lightweight dust mask I've worn it doesn't cause my safety glasses to fog it's easy to put on and take off and it's comfortable.
Elongated and pleated sides (Moldex calls them "Flexwings") that extend along the side of the face help contribute to the good fit. And because of that good fit, exhaled air exhausts
through the filter and the exhalation valve rather than leaking out at the bridge of the nose to fog safety glasses. The easy-on, easy-off feature comes courtesy of a plastic harness attached to a substantial strap. And the mask's light weight contributes to its comfort.
The Moldex EZ-ON N95 mask is approved by the National Institute for Occupational Safety and Health (NIOSH). It's available either with or without the exhalation valve I tested one with the valve. You can choose from two sizes small/medium and large.