Who's Got the Best Riving Knife?
Finally, this safety feature is required on tablesaws, but manufacturers approach it differently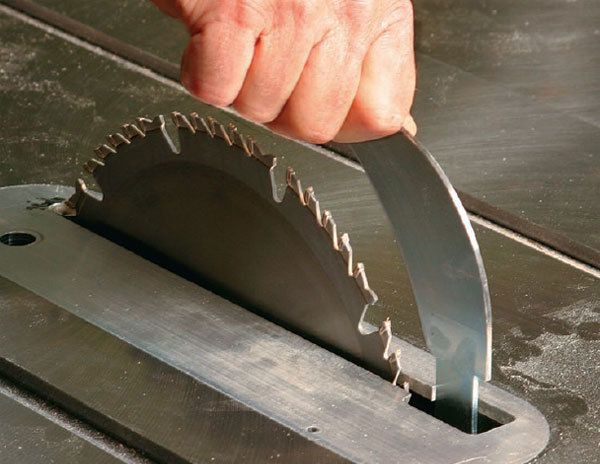 Synopsis: Long-overdue standards that require all newly designed tablesaws to include a riving knife as part of the blade-guard system are making tablesaws safer. This thin, stiff, steel plate is installed from above the tabletop, just behind the sawblade. Much like a splitter, it is meant to prevent kickback, but it offers big advantages in safety and convenience. To find out how the riving-knife systems compared on the newest 10-in. cabinet saws, Roland Johnson looked at the Delta Unisaw, General 650R, Grizzly G0651, Jet 708675PK, Laguna MTS0200-0180, Powermatic 2000, SawStop 31230, and Steel City 35905. Read on to discover how they compare.
Online extra: See tablesaw kickback in action and learn more about how a riving knife prevents it.
From Fine Woodworking #202
Tablesaws are getting safer, thanks to a long-overdue Underwriters Laboratories (UL) standard, effective in 2008, that requires all newly designed tablesaws—from benchtop models to full-size cabinet saws—to include a riving knife as part of the blade-guard system. (Models put to market before 2008 can be sold without a riving knife until 2014.) All manufacturers are working to meet the standard, and most are starting with their flagship cabinet saws. Due to patent laws, companies have taken different approaches, so I recently tried the new systems, head to head, to see who has the most convenient and accurate new safety equipment.
Before I get to that, however, it helps to understand how a riving knife makes a tablesaw safer.
Riving knife prevents dangerous kickback: Used properly, tablesaws are safe machines. Most woodworkers operate them without ever having a serious injury. But a tablesaw can make you pay dearly for inattention or lapses in judgment. In 2001 alone, the tablesaw sent an estimated 38,000 woodworkers to hospital emergency rooms, according to statistics from the U.S. Consumer Products Safety Commission.
Based on lots of anecdotal evidence, we know many visits are the result of kickback, the dangerous event that typically occurs when a workpiece inadvertently contacts the back teeth of the spinning sawblade and is fired back into the face, neck, hands, arms, or torso of the operator. Plus, in certain instances, kickback can cause a hand to be drawn into the blade. A riving knife goes a long way toward making you safer from kickback.
Much like a splitter used on older tablesaws, a riving knife is a thin, stiff, steel plate installed from above the tabletop, just behind the sawblade. Both mechanisms are meant to prevent kickback, but a riving knife has big advantages over a splitter when it comes to safety and convenience.
The problem with splitters—Walk into any small woodworking shop and chances are you won't see a splitter on the tablesaw. That's remarkable when you consider that woodworkers as a group are pretty safety conscious. The problem isn't with us, it's with the poorly designed splitter systems that have been around for decades. Ask any woodworker and you'll get three reasons why splitters are less than ideal, and why most splitters spend their days sheltering spiders in a dark corner of the shop.
For the full article, download the PDF below:
View PDF